If you're less than thrilled with the way you see people interacting with one another these days, you're not alone. We could all stand to treat one another with a little more consideration! With that in mind, Red Apple Reading has compiled a list of ten children's books that focus on kindness and compassion.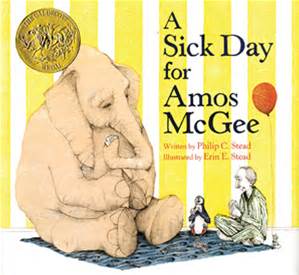 A Sick Day for Amos McGee  (Philip C. Stead) – Amos McGhee works hard at his job at the zoo, but he always has time and attention to share with his animal friends. One day when Amos gets sick and can't go to work, his friends come to visit him and show him a little T.L.C.!  Kindergarten – 2nd grade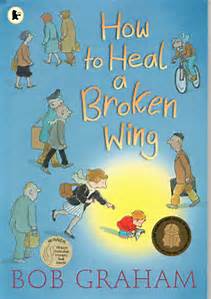 How to Heal a Broken Wing  (Bob Graham) – When a pigeon breaks its wing, no one seems to notice except a young boy. Will takes the injured bird home and lovingly nurses it back to health. Preschoolers and young elementary student will like this affirming tale.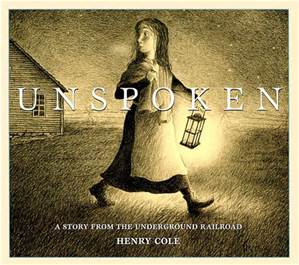 Unspoken  (Henry Cole) – This beautifully illustrated, wordless picture book delivers a powerful story about compassion. A young farm girl discovers a runaway slave in her family's barn and brings her food wrapped in a star patterned cloth. The runaway slave eventually goes, but she leaves behind a doll made from the cloth in which the food was covered.  Grades 2 – 4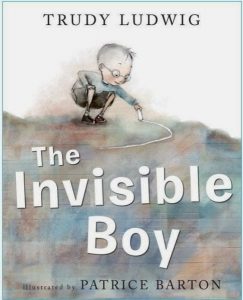 The Invisible Boy  (Trudy Ludwig) – Nobody at school takes notice of Brian or bothers to include him in their activities. When the new boy, Justin, arrives at school and the kids make fun of his lunch, Brian befriends him. The two boys team up on a class project and Brian's artistic abilities shine! Six to nine-year-olds will appreciate this story about inclusion.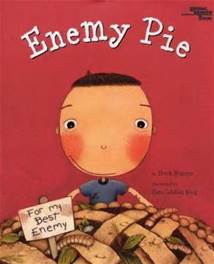 Enemy Pie  (Derek Munson) – It was shaping up to be the ideal summer – all until Jeremy moved into the neighborhood and became enemy number one. How's a young boy supposed to get rid of his enemies? Fortunately, Dad has an ingenious plan for just such a problem! It's tough and involves spending an entire day playing with Jeremy while Dad makes the enemy pie. Five to eight-year-olds will enjoy seeing how this problem is resolved.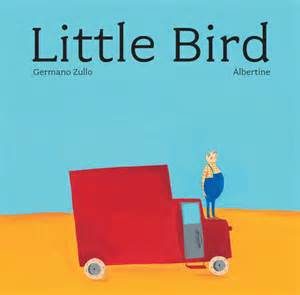 Little Bird  (Germano Zullo) – This lovely picture book will delight children and parents alike. The story of a man and a little bird serves to remind readers that small acts of kindness can change lives. A heartwarming book for preschool and early elementary students.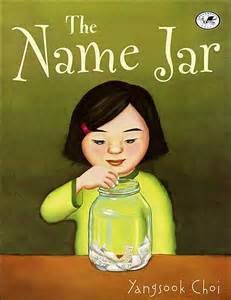 The Name Jar  (Yangsook Choi) – It's hard being new and having a name nobody seems to be able to pronounce. Unhei considers choosing a new name, but when a classmate visits her neighborhood and learns her real name, the kids in the class encourage her to keep her Korean name. Early elementary age students will enjoy this one!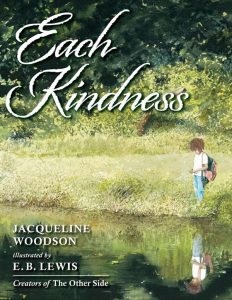 Each Kindness  (Jacqueline Woodson) – Chloe and her friends refuse to include the new girl, Maya, when she joins the class in the middle of the year. Maya doesn't have nice clothes and is called "Never New" because she wears second hand clothing. Maya eventually leaves school. When the teacher has a lesson about the power of small acts of kindness, Chloe regrets her behavior toward Maya. This heartbreaking tale will resonate with 2nd – 5th graders.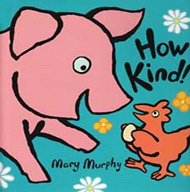 How Kind!  (Mary Murphy) – When Hen gives Pig a nice present, Pig decides to do something kind for Rabbit, and Rabbit does something kind for Cow. This simple picture book for preschoolers is a great introduction to kindness.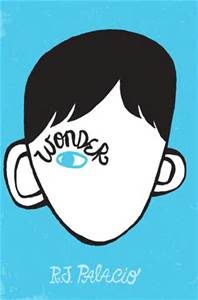 Wonder  (R.J. Palacio) – If you are looking for a book about kindness and compassion for your reader in middle school, look no further. Auggie Pullman has a facial deformity. He's been homeschooled all of his life but is about to begin 5th grade in public school. This story is told from several different viewpoints, including Auggie, his sister, his sister's boyfriend , and his friends. This story captures how cruel as well as how kind people can be.