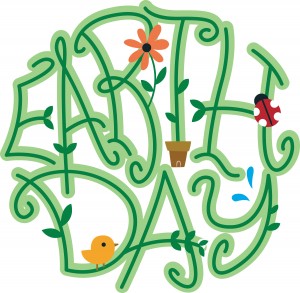 As you may or may not already know, tomorrow is Earth Day. While at first it may seem hard to make a connection between loving our planet and loving to read, with a little creativity, these two loves can be combined! Let's explore how we can get our kids and our books outdoors!
Your Own Backyard
When your little one approaches you with a book, where is the first place you think of settling in to read? The couch? The kitchen table? The bed? I know that the back yard (or any part of the yard) is not the first place that comes to my mind. But the outdoors and reading are two great things that definitely go great together! What can be better than a good book and great spring weather? Grab your kiddo and a blanket and head outside to dive into that new book. Or, if your youngster isn't one for sitting still outside, read to him while he plays. One of my favorite memories is coming outside to find my mom reading a Junie B. Jones book to my daughter while she was on the swing set. I still remember my mom laughing at Junie B.'s silly antics!
Take a Field Trip
Of course, your yard isn't the only place that would be suitable for a little outside reading. Earth Day is a great time to take your children on an outdoor excursion! You can visit your local library and check out Tell Me,Tree: All About Trees for Kids (Gail Gibbons), then visit your local arboretum or park and read it together. Or for those of you fortunate enough to live near the ocean, Charlotte Zolotow's The Seashore Book would be a perfect read to enjoy while squishing your toes in the sand! Your field trip need not be a major production. Perhaps you and your child could read a story and then take a walk around the block. The Listening Walk, by Paul Showers, would be a fun book for this excursion.
Outdoor Book Nook
Another fun way to bring reading outdoors is to fashion a "book nook" for your little one outside. Just fill a basket with several different interesting books and prepare a cozy spot outside for your kiddo. Maybe you could find an old appliance box and cut a door and couple of windows. Simply set up your box house in the yard (or carport, in case of rain) and place your basket of books inside. This is sure to provide hours of fun for your reader! No box? No problem! With a few blankets or some beach towels, you can create a fun reading fort in no time. A simple change of scenery can make reading so much more exciting.
The team at Red Apple Reading hopes you will find a way to incorporate reading into your celebration of Earth Day. Who knows? A day of outdoor reading may be the ticket to jump-starting your child's interest in books.
We'd like to hear from you! What are some ways you integrate reading with Earth Day?