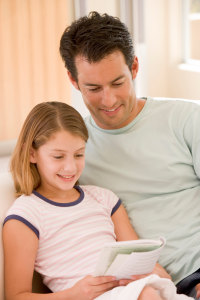 As the school year progresses it's easy to let enthusiasm for regular reading routines go by the wayside. Don't despair if this is the case in your home. Red Apple Reading wants to help you get your child's reading progress back on track!
Keep Reading Fresh -Spring is a great time to go through your home bookshelves and freshen up a bit. Sure, there are some books that are family treasures and permanent fixtures in your home library, but there are others that will probably never be read again. Clean these out and make room for some new titles.
Explore Interests – If your child seems less than enthusiastic about reading, have a discussion about her interests. You may find that she doesn't find the reading material on hand appealing. Take time to discover what piques your child's attention.
Trade in Old Books – Chances are pretty good that you have a used book store near your home. Oftentimes these establishments will give you more money in credits than cash. Trade in your books for some new-to-you reads. Don't have a place to trade in your used books? You can still share the love by donating them to your local thrift store for someone else to enjoy. While you're at it, pick up a few new titles for your kiddo.
Visit the Library – It may be time to renew your love for the library. Make visits to your local public library a part of your child's weekly routine. When we set aside time in our busy schedules for library visits, we are sending an unspoken message to our kids that reading is valuable.
Shop Scholastic Books – I don't know about you, but I love looking through a Scholastic book flier! Most schools periodically send these order forms home with their students. Take time to look through these with your child and pick one or two titles. Also keep your eyes open for school book fair announcements. There are lots of great deals to be had at these fundraisers.
Resurrect Reading Time – We make time for a myriad of different activities during the day. Dedicated reading time is a great way to ensure your child is getting enough exposure to the written word. Make reading a part of the daily household routine.
Read Together – When was the last time you read aloud to your kiddo? Don't neglect this profitable interaction. If you think your child is too old for this, think again. Reading with your kid will help improve comprehension, facilitate discussion, and most importantly, create memories. You may also take turns reading to each other.
It's always good to periodically take stock of our family priorities. Without realizing it our children can slip into an unproductive and potentially unhealthy routine. Don't let reading go by the wayside. It's never too late to get reading progress back on track!