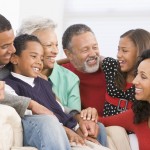 My husband and I have a little inside joke when the holidays come around. We say to each other, "Remember, the holidays aren't about being happy – they're about being with family." Actually, both sides of our extended family are pretty great. The holidays can be stressful though! What would happen if this holiday season we focused on the strengths that our family members bring to the table? This time of year provides the perfect opportunity to learn about the traditions and values of other family members when we gather for the holidays.
Red Apple Reading has some suggestions for making the holidays especially meaningful for all of the generations in your family.
Look Through Old Photo Albums – When planning the family gathering this holiday season, ask everyone to bring an old photo album to share. Everyone is sure to enjoy this mutually satisfying activity and the kids will discover that Grandma was actually a little girl once!
Prepare a Family Recipe – Most families have a recipe that has been handed down through the generations. During the holidays invite the best cook in the family to share a recipe and prepare it with the kids. The adult will love to share her wisdom and the kids will receive a cooking lesson!
Share Family Stories – My husband has quite possibly the best childhood stories of all time. It helps that he comes from a family of characters and is a really great story teller! The kids love to hear their father recount these stories. At the next holiday get-together, take turns sharing your stories with one another. Old and young alike will get a kick out of reminiscing together.
Make Ornaments – If you have a crafty family, then break out the popsicle sticks, glitter, and glue and craft some Christmas creations together! A quick perusal of Pinterest will yield several cute ornament ideas. We like these ideas from Southern Girl Ramblings! You might find your family enjoys crafting so much that it becomes a holiday tradition.
Volunteer – Another meaningful way to spend the holidays is by helping the less fortunate. Most shelters and soup kitchens prepare special holiday meals for those in need. Your family can volunteer to help serve, wash dishes, clean up, or visit with the guests. Giving back to the community is a wonderful way to spread some holiday cheer.
Deck the Halls – Decorating for the holidays is fun; but it can also be overwhelming! Why not take advantage of Thanksgiving company and ask for a little assistance decorating the tree and hanging the stockings? When the decorating is complete, load up and head to the next family member's house. After all, "a burden shared is a burden halved"!
Make your family gatherings meaningful this holiday season! Each relative is an important piece of your family heritage and has their own special part to play in the life of your family! We would love to hear how your family makes their seasonal get-togethers special. Leave a comment below sharing your ideas!