With summer here and many families planning to take a vacation, now is a great time to prepare an entertaining car ride for the kids. Although using a DVD player works, my nieces love having a booklet with road trip activities, such as road trip bingo. In our family, no journey is complete without our collection of road trip games and activities.  
Along with plenty of books (and audiobooks), ensure you bring these printable resources on your next trip. Here are three of my family's favorite educational road trip activities.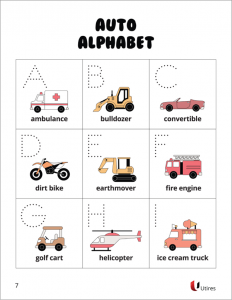 Auto Alphabet for the Young Travelers
In our family, we love to read. My youngest niece continues the tradition with a love of the alphabet. What better way to boost the learning of a little reader than taking those lessons on the road?
Auto alphabet combines learning and observation into a fun road trip game. As your kids spot each kind of vehicle, have them find the appropriate card. Ask them what the first letter is, how to spell the word, or anything else! 
Pass the Time with Road Trip Bingo
Road trip bingo is a great educational game for the entire family. As you travel, instruct the family to keep an eye out for the various sights and objects on the bingo board. As is tradition, the winner is the first to get five in a row.
Road trip bingo promotes observation and critical thinking, all from a car seat. Feel free to customize the game to your liking. Create a customized board based on your road trip. Laminate the boards for endless playtime. Or, add more education by requiring proper out-loud spelling of each item they see.
Word Search on the Move!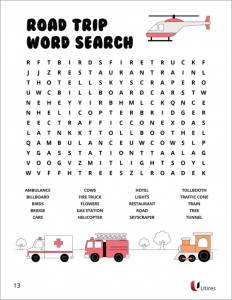 When it's time for a bit of quiet in the car, we turn to road trip word search. Filled with relevant words, this game enhances focus and thinking in a quiet game. And, there are many ways to play!
Aside from traditional rules, instruct your kids to find words as they see them on the drive. Or, ask them to search for terms related to specific categories, like cars or animals. Create customized word searches based on your trip and your family. Not only do they help promote quiet, but they also boost reading and comprehension skills.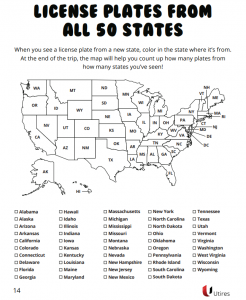 License Plates From all 50 States
The license plate game is another road trip favorite that's fun for all ages. Make it even more fun by starting with this printable map of all 50 states. Whenever kids spot a license plate from a new state, they color in the state on the map that represents it. At the end of the trip, they can total up all the states they've colored. Extend the fun to future road trips by laminating a few copies of the map and using dry-erase markers.
Final Thoughts
Road trip games aren't all found on electronic devices. While a tablet or game device will pass the time, your kids need a bit of education on the road. Enjoy classic road trip games with an educational twist with these handy printables. From letter trace to bingo, there is a game for everyone. 
Guest post provided by Rachel Perez and United Tires.