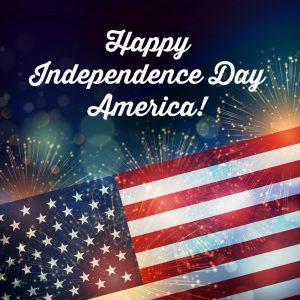 The 4th of July weekend is upon us and summer is in full swing. If your kids are like mine they are really enjoying their vacation from school. While it's good to have a break from the daily grind of schoolwork, kids can lose some of the progress they made over the previous school year. You can help avoid this "summer slump" by incorporating some educational content into the summer schedule. Why not start today? Take time to sharpen your child's literacy skills with these fun 4th of July themed activities.
Patriotic Picture Books – If you're looking for some patriotic reads to share with your kiddo, then look no further! No Time for Flashcards has compiled a list of 18 patriotic picture books that are sure to get your little one ready for 4th of July fun!
F is for Flag – This cute craft is a must for those of you with preschoolers! Your child will practice her phonics, exercise her creativity and learn about the Stars and Stripes when she constructs this adorable F shaped American flag. Thanks MPM Ideas!
4th of July Word Search – Make your very own word search with Discovery Education's free puzzle generator. Simply type in the patriotic terms you wish to use and your customized puzzle will be ready in a matter of seconds!
History Lesson – Older elementary, middle and high school students will enjoy the interactives, videos, articles and pictures about the 4th of July at History.com. Take advantage of this fun way to incorporate a history lesson for Independence Day.
Write a Thank You Note – The 4th of July is the perfect time to write a thank you note to a soldier serving in the military. Operation Gratitude helps facilitate this important volunteer activity. Visit their website today to learn more.
Patriotic Writing Prompts – Want to give your little one an opportunity to practice his writing skills? Give him a patriotic writing prompt to get his creative juices flowing! Writing prompts such as, "I love living in America because…", "If I were President I would…" and "My favorite American hero is…" are just a few ways to get your kiddo going.
Compose a Patriotic Poem – If your kid enjoys poetry encourage her to compose her very own patriotic rhyme. The evening barbecue will be the perfect place for her to share her creation with the entire family!
A to Z Challenge – See who can come up with the most patriotic words this Independence Day. Give each of your kids a sheet of paper labeled A-Z. Have them write a patriotic word starting with each letter of the alphabet. Whoever comes up with the most words is the winner!
ABC Stick Flags – Growing Book by Book has 3 great ABC stick flag activities that fit well with a 4th of July theme. Test these out with your preschool kiddo this Independence Day!
We hope your weekend is filled with lots of fun family activities. Happy 4th of July from all of us here at Red Apple Reading!