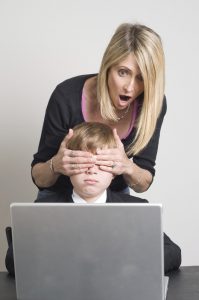 Do you find yourself constantly checking up on your digital savvy youngster? Does your heart skip a beat every time your child goes online to play a game or chat with a friend? You're not alone. Although the Children's Online Privacy Protection Act (COPPA) takes steps to protect your child's personal information from websites, there are many other online threats you'll need to guard your child against, including mature content, online predators, and cyberbullying to name a few. So many parents these days struggle with the question of how to allow their children to benefit from all of the educational and entertaining aspects of the Web without exposing them to the dangers that we all know lurk behind the monitor. If you're among those who still aren't sure how to perform this balancing act, then consider these tips for ensuring that your child's next online experience is both a safe and pleasant one:
Consider a Child-Friendly Browser
Depending on the age of your child, you may want to consider providing a child-friendly browser for your youngster to use whenever she goes online. These browsers come with pre-installed filters that minimize the chance that your child will view inappropriate material online. Some of the child-friendly browsers currently available include Google's SafeSearch for Kids and Rover app for iPad.
Try Parental Control Software
A child-friendly browser is perfect for younger children who simply want to play games or watch videos online, but as your child gets older, he may find these browsers to be too restrictive. For instance, if your middle-schooler needs to work on a research project in science class, the browser may be too limited to find relevant information. In this case, you may find parental control software like Norton Online Family, NetNanny, or Qustodio to be a better solution. These programs allow you to block certain sites, monitor the time your child spends online, and receive weekly reports about their activity. That way, you can allow older children to experience more freedom online without exposing them to potential harm.
Talk About Online Dangers
Perhaps the best online protection you can give your child is a good education about just what dangers she may come in contact with on the Internet. As soon as your child is old enough, you should begin the conversation about safe Internet use. Advise your child to never give out personal information online without consulting you first, and to use good judgment when deciding which sites to visit and which to avoid. Establish boundaries for your child regarding social media, chatting, and other online opportunities your child will have access to as she gets older.
As our society becomes more and more high-tech, it will likely become increasingly difficult to monitor everything your child does online, even with the help of special browsers and apps. That's why creating an open dialogue with your child early on is so important. Encourage your little one to begin asking you questions now, and let him know that he can always come to you with any problems that arise—whether on or offline.
2019 UPDATES:
For more current information please visit the following recommended sources:
The Best Parental Control Software and Apps of 2019 by Comparitech – top tools AND guided steps for using free control features on computers and phones
17 Rules to Protect My Child Online – Internet Safety for Kids by BroadbandSearch
Internet Safety 101: The Ultimate Guide for Parents by We the Parents