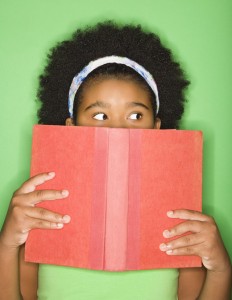 When I taught fifth grade it felt like there were never enough books in our class library. What started out as one half-filled bookshelf eventually became two that were overflowing. I ordered every book I could afford and brought books from home once my daughters were finished with them. From Harry Potter (for the very brave) to Captain Underpants to Charlotte's Web, one thing my students could count on was variety. There was no excuse for not finding a book worth their reading time.
As children grow from toddler age and up, they will most likely begin to demonstrate preferences for particular types of books. A toddler who has a passion for trains and transportation will most likely start asking for books about his or her favorite subject. Older children may ask for books in their favorite genre of science fiction, horror, mystery, etc. Seeking out books that match your child's interests and keeping your child excited about the reading material can go a long way toward fostering a love of reading.
You can begin to read different types of books to your child–fiction as well as non-fiction–with different types of writing styles. Although it is best to avoid books with too much complicated language, you can feel free to read books with slightly advanced vocabulary to your child, as long as you take the time to explain confusing terms, and as long as your child doesn't seem to be losing interest.
Non-fiction books and magazines such as National Geographic Kids, Zoobooks, or Sports Illustrated Kids can be wonderful resources for reading about favorite subjects and acquiring new interests. Reading non-fiction books not only introduces your child to new information, but also gives your child practice with reading a style of writing that will be commonly encountered in school. The writing style of non-fiction books can be a great introduction to the writing found in textbooks and primary resources. Children reading non-fiction can gain practice with reading to learn specific information rather than reading to follow a particular story.
What about letting kids read comic books, or graphic novels as they are now often called? Well, why not? Kids love the visual format of them, and they are available now both digitally and in print. There is nothing wrong with having illustrations to help tell a story, as long as the story is still being read. This form of literature may end up a valuable competitor in the bid for your child's attention, next to television and video games. My daughter still loves finding them rolled up in her stocking as a gift each year.
In this digital age there is now also the question of whether it is OK for children to read books on a computer, tablet, or smartphone. Although many would argue that "real" books are necessary for development, little ones can learn basic concepts such as turning pages and following text from left to right even in a digital format. If it makes the reading more entertaining, then take advantage of every opportunity to share a book with your child and/or have an app or website read books out loud to her.
The truth is that what your child reads is not nearly as important as how much he reads. The amount of reading a child is exposed to is directly related to his vocabulary development – the more he reads and is read to, the more words he knows and the better his chances for academic success in school. More reading also increases reading fluency, or the rate of reading with accuracy and proper intonation. It all boils down to practice, and practice makes perfect!
What kinds of books does your child enjoy? We'd love to hear from you!