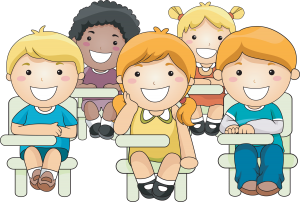 Have you heard of the combination classroom? If not, then it may be just a matter of time before it debuts in a school near you. With education budgets tighter than ever, these types of classroom environments are becoming more prevalent. So just what are they, exactly? Combination classrooms, also referred to as multi-grade classrooms, are those that accommodate students of different ages and grade levels under the instruction of a single teacher. Most parents panic when they learn of the possibility that their child may be put in the same classroom as children older or younger than them, but research has shown that there's really no reason to fear. To put those worries aside, let's examine and debunk some of the myths surrounding combination classrooms.
Myth 1: The teachers aren't qualified.
In reality, principals typically recognize the increased challenge that a combination classroom poises and, as a result, choose the most experienced and qualified teachers on staff for these positions. Furthermore, these teachers often receive extensive training in order to learn the best practices for effectively managing the multi-grade classroom.
Myth 2: The teachers are overwhelmed.
Any teaching job can be overwhelming at times, but combination classroom teachers usually get more planning time and fewer duties outside of the classroom. Many of these teachers even have their own classroom aide to help ease the burden.
Myth 3: Students don't perform as well academically.
Studies have shown that students taught in multi-grade learning environments perform just as well—and in some cases, better—than students taught in a traditional classroom environment.
Myth 4: Older children won't be challenged in a combination class.
Older children in combination classrooms not only receive grade-level instruction, but they also retain prior knowledge better since they often teach these skills to younger students in the class.
Myth 5: Children in combination classrooms don't do well socially.
Although some parents and educators alike have expressed concerns that children in combination classrooms miss out on the social benefits gained from interacting with their same-age peers, studies often reveal the opposite. That is, research has shown that students in these types of learning environments not only get along better with one another, but also form more satisfying relationships with their teachers since they usually remain in the combination classroom for more than one school year. Advocates of the multi-grade classroom argue that the learning environment actually promotes enhanced social skills since it more accurately mimics the type of social situation a student will likely encounter in the "real world."
The results of research conducted on combination classrooms thus far are quite impressive, and if studies continue to yield positive findings, then these types of classrooms may become the norm in the future. If you're interested in finding out more about multi-grade classrooms including how and why they work, I'd highly recommend you check out The Multigrade Classroom: A Resource for Small, Rural Schools. It's full of information for parents and teachers alike.