DEAR Reader,
Today is a day that is very DEAR to our hearts here at Red Apple Reading. It is so DEAR in fact that we would be DEARly disappointed if you didn't help us celebrate. You see, today is not only DEAR children's book author Beverly Clearly's birthday, but it's also national Drop Everything and Read (DEAR) Day. Unless you have school-aged kids, then this may be your very first DEAR celebration, which makes it that much more special of course! According to the official DEAR website, all you have to do to participate is to read for 30 minutes today, but you do that every day, right? So, why not go all out? Here are some ideas for making Drop Everything and Read Day an experience that's sure to become a DEAR memory for your little one: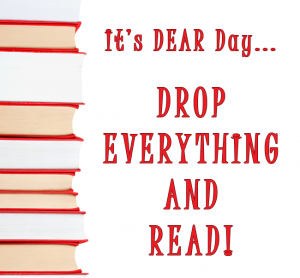 Devote the entire day to fun reading activities.
If you're a stay-at-home mom or dad or if you can take the day off of work, take the name of the day literally and drop everything and just read. See how many great books you can read today ; your little one will love keeping count! When your throat gets too dry to read anymore, pop in an audiobook, or download an interactive ebook. Remember, literacy activities aren't confined to reading alone. You can also log in to Red Apple Reading and play some educational games! By taking an entire day off from your normal activities to read, you'll be showing your child just how important—and fun—reading really is!
Invite your friends and family.
Make DEAR day a big deal by inviting whoever will come to help you celebrate. Tell them to dress up like their favorite book characters. Add some chips and juice, and you've got yourself a DEAR party. You can make it a blast for your child and your guests with these DEAR activities.
Help your child write a letter to Beverly Clearly or another great children's author.
In honor of DEAR day, help your child write a letter to Beverly Clearly or the author of his or her favorite book. Your child can describe your DEAR celebration to the author or simply tell the author what makes his or books so great. Who knows? Your child may even get a reply!
Whatever you do to celebrate DEAR day, be sure to make it a fun experience for your little one. The more fun she has reading, the more practice she's sure to get!