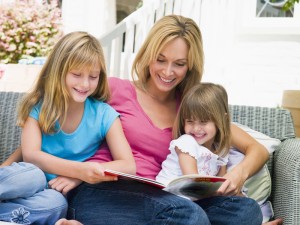 Whether your child is three or thirteen, reading aloud to (or with) her is a great way to promote literacy skills while enjoying some time together as well. If you've never thought about reading aloud as an art, however, you might want to reconsider what story-time really means. Short of visiting an elementary school class to see a real artist at work, implementing a few simple strategies can help you turn read-alouds at your house from fun to fabulous! Next time you sit down with your child and a good book, consider the following:
Location, Location, Location!
Location is important, and not just in real estate! When you initiate story-time with your little one, pick a spot that is both comfortable and free from distractions. The couch in the living room is fine, for instance, as long as the TV is off. If you have school-aged children, reading for fun in the same spot where they complete their homework may be okay, unless homework is a struggle. In this case, you may want to choose a location they associate with play, not work.
If you see reading to your child as a chore, then he's likely to pick up on your vibe and follow suit. Before story-time begins, put yourself in the proper mindset. Reading can be a relaxing and fun activity for you as well. If you're having a hard time getting motivated, remind yourself that reading aloud to your child is one of the most important things you can do as a parent to promote literacy and a lifelong love of reading!
Interaction and Intonation
Any reading teacher will tell you that presenting a book to a child requires a lot more than just reading the words on the page. This is especially true for reluctant readers. Reading the book with expression, alternating voices for different characters in the book, and discussing the events in the story can bring the book to life for budding or even independent readers.
Of course, choosing the right books for your child is an important aspect of the art as well. Be sure to select titles that appeal to his interests and are fun for the both of you. It may be tempting to choose "educational" books, and there is certainly room for that in your reading routine as well. Just remember that every book has a message and that teaching your child to love reading may be the most important lesson of all.
What are your favorite books to read aloud to your child?