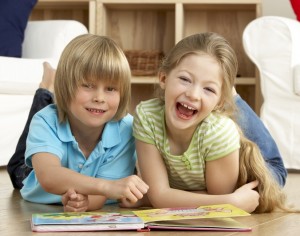 There's nothing like cracking open a new book! Walking into the public library or bookstore and spotting a brand new book by one of my favorite authors really makes my day. If your kids are like mine, they feel the same way as well. Most of us probably have "classics" such as Little House on the Prairie, Curious George, and The Hardy Boys in our home library. And while there is certainly nothing wrong with falling back on an oldie but goodie, there are several new children's titles worth exploring. So, what are some of the great, new books available to children this year? I did a little research and found some new titles that are bound to bring a smile to your little one's face!
For Younger Children
Many of you with younger kids are probably familiar with the popular book, Goodnight, Goodnight, Construction Site by Sherri Duskey Rinker. Rinker's next book, Steam Train, Dream Train, was just released in April. Amazon has this listed on its website as one of its Best April Kid's Books. For those of you who have little ladies at home, Tea Time With Sophia Grace and Rosie, by Sophia Grace Brownlee, Rosie McClelland, and Shelagh Mcnicholas (Illustrator), is sure to bring a smile to your little girl's face. Not Your Typical Dragon (By Dan Bar-el) is a great pick for any kid who has ever felt different. If your child is between the ages of 4-8, these books would be good titles to add to your collection.
For Middle Readers
When I came home from the library several months ago with Storybound for my 11-year-old, she quickly became absorbed in its exciting plot. Author Marissa Burt has recently released Storybound's sequel, Story's End. In this follow-up book, readers join the main character, Una, as she seeks to ensure the land of Story's survival. HarperCollins, publisher of Storybound and Story's End, has a great website from which you can view all this publisher's new releases. James Patterson fans will be excited to read the third installment in his Middle School series, Middle School: My Brother is a Big Fat Liar. This Middle School book is told from the character Georgia's point of view. Finally, Big Nate is back in Big Nate Flips Out, by Lincoln Peirce.
For Teens
If your teen was a fan of the popular Hunger Games series, they are bound to enjoy Marie Lu's Legend series. Prodigy, the second book in this series, was released in hardback in January of this year. The first book, Legend, is also available in paperback now. Speaking of sequels, this is a good month to buy one! Light: A Gone Novel, by Michael Grant, and Inferno, the fourth installment in the Chronicles of Nick Series (author, Sherrilyn Kenyon), are two new books that have recently been released.
It's not difficult to track down the best and newest children's books out there. Sites such as Barnes and Noble, Amazon, Books-A-Million, and others have lists of new releases ready for you to view. It is also beneficial to visit book publishers' web sites and see a list of their recently published material. And let's not forget our good friend, the public library! Most public libraries have a special section for new titles, and your librarian is a great resource as you search for new books for your kiddos. Summer is almost here! In honor of new beginnings, go find that great new book for your child.