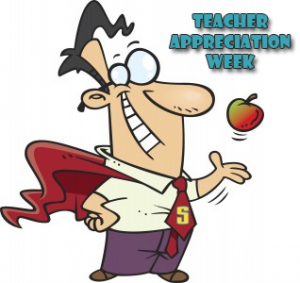 Teacher Appreciation Week is May 6-10 this year. At Red Apple Reading we know the difference a good teacher can make in the life of a child. Hopefully, as parents we all show appreciation for our kids' teachers throughout the school year, but this week gives us the opportunity to thank them in an extra special way. Teaching is one of the hardest and most important jobs in our society. Since they work so hard for our little ones, let's think about how we can show teachers some much deserved gratitude!
Volunteer
While there is nothing wrong with a nice gift, sometimes we overlook how great a gift our time is in the lives of others. Why not schedule a time with your child's teacher this week to go to the classroom and help out? Most teachers have enough projects to keep an entire army busy! Making copies, grading papers, facilitating centers, and running to the office are just a few of the jobs that teachers are usually happy to sub out. If you work during the day, you can still help – simply ask your kid's teacher what you can help with from home after work. For instance, cutting out paper objects for bulletin boards, prepping art projects, and organizing folders are all things that can easily be done from home. This year consider giving the gift of your time to a teacher!
Books!
This next one will be no surprise to those of you familiar with Red Apple Reading. We do all that we can to encourage and facilitate reading – and this goes for the classroom as well! Unfortunately, due to budget constraints, many classroom libraries are woefully inadequate. This week consider picking up a few books to donate to your child's classroom. While you're at it, pick up a book just for her. Visit Amazon to view lists of books for teachers. You are sure to find something she would enjoy reading. When you are shopping for a teacher it's hard to go wrong with a good book.
A Note of Thanks
Along with a little gift, make sure you include a heart felt letter of appreciation to your child's teacher. Very often the only communication teachers receive from parents is negative in nature. When things are going well for our little ones, we rarely stop to acknowledge the hard work their teacher has invested to give them a positive school experience. Even on good days, teaching is a challenge. Show your gratitude to your kiddo's teacher by writing a sincere letter of appreciation. It is also a good idea to have your child do the same. A few sweet words could really make an instructor's day. If your child is too young to write, a nice, hand drawn picture (perhaps of her and her teacher) is sure to be meaningful too!
Don't let Teacher Appreciation Week slip by unnoticed this year. Teachers are so important in the lives of our kids and they deserve our respect and encouragement. The type of gift you give is less important than the sentiment behind it. Does your child's teacher know how much he or she is appreciated? Make sure to show them this week! We would love to hear your ideas on how you honor the teachers in your life.