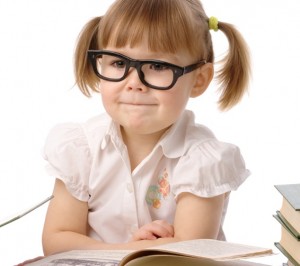 Is your child the brightest of the bunch? Most all moms and dads think their kids are the shining stars of the class, and why shouldn't they? In reality, though, some youngsters truly do learn at a more advanced pace, and while this can be a huge advantage for them, it's not without its unique challenges.
Advanced learners often become bored with an age-appropriate classroom environment, and may even "act out" to demonstrate their boredom or frustration. This can lead to the child being labeled as a troublemaker or simply refusing to do assignments he doesn't find challenging or interesting.
Fortunately, educators are continually looking at ways in which they can support all of the many different learning styles they encounter, with the goal of differentiating instruction for all of their students. This differentiated instruction can significantly benefit students who are inspired by extra challenges, especially those who thrive in a school environment in which they are offered additional work and assignments beyond grade level expectations.
Accelerated learners will most likely thrive academically when offered additional challenges within the classroom, and will continue to seek out such challenges. If your child seems to show a readiness for more challenging work, you can collaborate with your child's teacher to find ways to accommodate his or her needs within the school environment. You can also enrich your child's learning at home by:
Providing your child access to books above his or her grade level
Introducing your child to a wide range of subjects and pursuits
Encouraging your child to engage in independent research, and perhaps even write about his or her findings
Seeking environments in which your child can be around other like-minded children
While you strive to help provide your child with academic challenges, however, it is important to remember that even the most eager children can sometimes be negatively affected by involvement that might feel like "pushing." Children who demonstrate academic advancement well beyond grade level still need the same support as other children his or her age, perhaps just in different ways. The right environment for advanced learners might be a school with an accelerated curriculum and like-minded peers, it might mean staying within a traditional classroom setting and receiving additional assignments, or it could demand alternative educational options such as home schooling. These decisions will of course depend on the individual child's learning style, and on the conclusions of a child's parents and teachers.
If your child is demonstrating the tale-tell signs of advanced learning abilities, you may want to have him or her tested for a gifted program. In the meantime, check out these ideas on how you can support your child's accelerated learning.