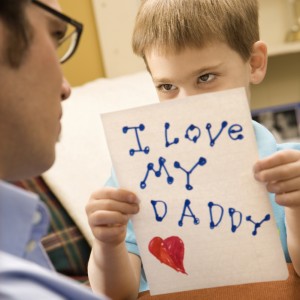 With Father's Day right around the corner, you are probably already considering what to get the men in your life on this important day. If you are like me, you find that special man in your life (father or husband) a little hard to buy for. It can be tricky to find just the right gift to give on Father's Day, but let's not give up too quickly and buy the first pair of socks or tie we see! Hopefully, this list of four fun gifts for Dad will give you some inspiration as you and your family prepare for Father's Day!
A Special Meal
They say that the way to a man's heart is through his stomach! This Father's Day why not put this old saying to the test and cook Dad a yummy meal? Don't fret ladies! I know you are thinking that this sounds like something you do every day. Whether or not you are the primary cook in your household, the preparation for this meal should be done by the whole family. It may seem a bit daunting at first to have all the kids in the kitchen helping prepare a special meal, but it can actually be a lot of fun. No matter the ages of your children, everyone can contribute in some way. The little ones can help mix ingredients and set the table. If you have older children, don't be afraid to hand them the recipe and let them be in charge of a dish (with your supervision of course!). When your kiddos present Dad with his special meal, they are sure to feel proud of their contribution; and when you all sit down together to eat as a family, Dad will feel loved!
Picture Perfect
Something that I have done in the past for my husband that he seems to enjoy is giving framed pictures of our children. Most men have an office of some sort that they go to every day for work that could use some wall or desk decoration. Even if your guy doesn't have a typical office, he probably has a bedside table that could do with a framed photo or two! Why not take your kiddos out a few days prior to Father's Day and take some pics of them? Remember, this doesn't have to be fancy – some of the best pictures I have taken of the kids have been candid shots of them playing. So this year for Father's Day pick up the camera and the kids and have a photo shoot!
All About Dad
I found this cute idea while perusing Pinterest the other day. On her blog, Pretty Things, Keren Dukes offers free vintage printables along with other Do-It-Yourself crafts and ideas. One of the freebies she has available is a retro Father's Day printable. Your little one can fill in the blanks of this printable to describe dear old dad! There is also a place on it to put a picture; so this idea might work well in conjunction with Picture Perfect from above! Even if you want to create your own fill-in-the-blank page, this free image might give you some ideas to jump start your project.
A Good Read
In our opinion, it's hard to go wrong when you give a good book for a gift! This year consider buying a nice book for the man in your life. If he is a history buff, he is sure to like a good non-fiction adventure story. For instance, I have given my father-in-law several books by Stephen E. Ambrose over the years. One of my favorites was Undaunted Courage, a compelling read about the Lewis and Clark expedition to the American West. If your husband or dad enjoys a more light hearted read, he might enjoy David Sedaris', Let's Explore Diabetes with Owls. This collection of humorous essays is sure to tickle his funny bone! Even if your loved one isn't prone to pick up a book, you could still give him the gift of a good read by placing a subscription for his favorite magazine or newspaper. Be sure to give Dad the gift of some quiet time on Father's Day as well, so he can plunge into his new book or magazine.
Hopefully, we have given you some good ideas for Father's Day presents. Of course, the best gift you can give is your time and love. Be mindful this Father's Day of all the joy and good the men in your life bring to you and your family and make sure they know you are grateful!