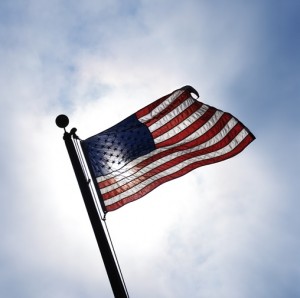 What are your plans for Independence Day? Perhaps they revolve around spending time with family, barbecuing, or enjoying a restful day from work. This year, why not consider adding some patriotic themed books to your day? It is so important for our little ones to know why we celebrate this special day each year and sharing a book about our country together is the perfect way to do just that! Red Apple Reading would like to suggest some patriotic books to enjoy with your young reader.
America the Beautiful – Robert Sabuda
Many of you may already be familiar with Robert Sabuda's stunning pop-up books. Now this talented artist has captured the first verse of "America the Beautiful" in pop-up form. Your little one will enjoy turning each patriotic pop-up page (and you will too!). Ages 4 and up.
Sweet Land of Liberty – Callista Gingrich
Ellis the Elephant visits the library and learns about several pivotal moments in America's history. Your young reader will enjoy his journey! Ages 4-8 years.
Those Rebels, John & Tom – Barbara Kerley
This book provides a witty portrait of Thomas Jefferson and John Adams. Your little one will enjoy seeing the differences in these two patriots and recognize how through joining forces, Adams and Jefferson worked to lead our country to freedom. Ages 7-10.
Biscuit's 4th of July – Alyssa Satin Capucilli
Your younger child will enjoy learning about the July 4th holiday with Biscuit the much beloved dog! In this installment, children join Biscuit as he learns about 4th of July traditions. Ages 2-6 years.
America: A Patriotic Primer – Lynne Cheney
In this book, wife of former Vice-President, Dick Cheney, creates a patriotic primer using the 26 letters of the alphabet to describe the rich history of our country. Ages 5 and up.
In 1776 – Jean Marzollo
Learn about Life, Liberty, and the Pursuit of Happiness! This book provides a great introduction to the American Revolution. Ages 6-10.
The Story of America's Birthday – Patricia A. Pingry
This book is perfect for introducing toddlers to the history of American Independence. A great recounting of the year 1776 for little ones! Ages 2-5.
Yankee Doodle – American Antiquarian Society
Join Yankee Doodle as he travels through early American history. This book can be sung to the tune "Yankee Doodle"! Ages 6 and up.
Patriotic Mouse: Boston Tea Party Participant – Philip Horender
Join Maximilian P. Mouse as he time travels through Boston, Massachusetts during the Boston Tea Party. A nice read for the upper elementary crowd! Grades 3-6.
America the Beautiful – Katharine Lee Bates
The illustrator of this book, Chris Gall, is the great, great, grandnephew of "America the Beautiful" composer, Katharine Lee Bates. This beautifully illustrated book pairs the lyrics of this beloved song with pictures. Ages 1-6
This Independence Day, enjoy your family, friends, and maybe even some fireworks. Afterwards, wrap up the holiday with some nationalistic reading. Your kiddos will undoubtedly reap the benefits of this patriotic pastime!