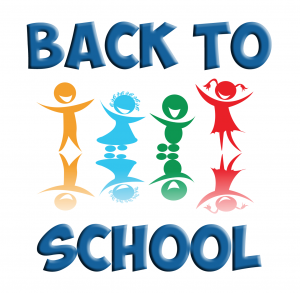 Who doesn't enjoy a good party? Throughout the year we celebrate birthdays, promotions, anniversaries, weddings, and other countless events. Celebrations are particularly great for marking the start of something new. Since the new school season is here, why not get the year off to a great start with a fun party? A back-to-school party can be a great way to get our kiddos excited about the upcoming school year. Red Apple Reading has some fun party suggestions to help kick off the start of an exciting school year!
Extend an Invitation
A good party requires party guests. Have your kiddos make a list of friends they would like to invite to their Back-to-School Bash. Even if your children are spread out over several years, you can still all party together. Just make sure you have age appropriate activities for everyone in attendance as well as plenty of adult supervision. Let your kids craft their own invitations and send them out a week or two before the party date. If you prefer to send invitations electronically, Evite has several cute designs to choose from. Once you have compiled your guest list and sent out the invitations, you are ready to plan your party!
Eat
You will want to have some yummy snacks at your celebration. It's always fun to have food in that revolves around your party theme. A bowl of Smarties, for instance, is a good candy to serve for all the smart students attending the party. Of course, no party is complete without a good cake! Ask your local bakery what school themed cakes they can create for your celebration. Perhaps you would like to make your own cake. There are several ideas online for creating fun back-to-school baked treats. Visit Spoonful.com to view their 12 Back-to-school cakes and cupcakes. Feel free to include some non-themed treats too such as chips and dip and fruit (although apples do remind me of school!).
Entertain
Make sure to plan some fun party games for your guests as well. If you are inviting children of varying ages, make sure you plan games that are appropriate for all ages or have different individuals facilitating entertainment for each age group. Put a fun twist on the classic game of "Simon Says" by changing it to "Teacher Says". You could also play an exciting scavenger hunt game and have children look for hidden school supplies. Custom make your own school themed bingo cards and play back-to-school bingo. With a little creative thinking, you can come up with several enjoyable back-to-school games of your own!
Enjoy
Send your party guests home with a fun memento of the day. These treats need not be elaborate or expensive. A pencil bag filled with candy, a box of crayons, or a brightly colored ruler are all great goodies and will come in handy when school begins.
Start this school year off with a bang! A Back-to-School bash is sure to get your student excited about the new year. How do you get your little one pumped up about a new school season? Leave a comment below to share your ideas with us.