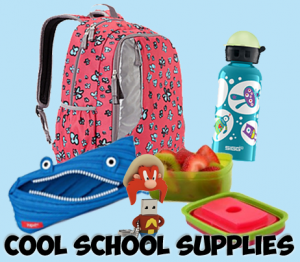 Can you believe that it's that time of year to grab the school supply list, load up the kiddos and head to the store? Where did the summer go? To be honest, back-to-school shopping isn't at the top on my list of fun things to do. If you share my bleak outlook on hitting the stores and stocking up for school, take heart! There are a lot of nifty back to school supplies out there waiting to cheer you (and your little one) up and make going back to school more exciting! We have great finds for the eco-friendly, the tech-savvy, the trendy and the fun-loving! Let's take a look at some of these cool school supplies.
– Sigg Water Bottles – Keep your kiddo hydrated this school season! Sigg has an excellent line of water bottles just for kids. These fun water bottles come in a variety of fun designs that your little one will love! Bottles vary in size, have different features, and are durable. Best of all, you are not creating unnecessary waste by buying bottled water from the store!
– The Seven Year Pen – Made by Seltzer, these super stylish pens contains a jumbo ink cartridge that allows its user to write 1.7 meters a day for seven years! Don't worry, this isn't a chunky, uncomfortable pen to hold – it's as slim as any other pen you normally write with! These pens are both eco-friendly and trendy!
– Zipit Monster Pouch – This funny monster pouch unzips his lips to hold your stuff! The perfect size for a pencil case, your kid will smile every time he goes to retrieve a pencil. This pencil/pen holder comes in several vibrant colors and is 100% polyester.
– Wild Ones Safety Scissors by Westcott – These blunt scissors come in 6 different animal designs your little one is sure to enjoy. If you have a young animal fan in your house, he will love these fun scissors!
– Kids Soft Touch Meal Carrier by Fit & Fresh – This divided container will keep your child's lunch easily divided without the fuss of storage bags. Box comes with 2 ice packs that snap into the lid. The convenient soft lip makes it easy for your kiddo to open and close!
– Animal Lunch Punch Sandwich Cutters (Pottery Barn) – These plastic sandwich cutters will turn your kid's lunch into a zoo! Each pack contains 4 differently shaped cutters that transform your child's sandwich into a fun animal. Mom will love that these are dishwasher safe!
– eBags Bookworm Kids' Pack – This is one of the best made and thought out kids' backpack I have seen in a long time. The Bookworm Kids' Pack (made for ages 5-10) has several different compartments and pouches for all your little one's items. It also has reflective front panel, padded air mesh panel in the back and a coated bottom to reduce moisture absorption. Parents will like this pack's durability and kids will love the fun colors and different pockets.
– Livescribe Echo Smartpen – This is a cool tech gadget for those of you out there with older kids (or for yourself!). This smart pen records as you make notes, so you can go back and review what was said at the time you made your note. You can also send the audio and notes from your paper to Facebook, Microsoft OneNote and Evernote. This is very cool!
– EMTEC Looney Tunes Flash Drive – Here's another great gadget for any of your children that require a flash drive for school. EMTEC has a flash drive series featuring 4 different Looney Tunes characters. Choose from Yosemite Sam, Marvin the Martian, Daffy Duck, or Bugs Bunny.
Hopefully, your back-to-school shopping will go smoothly and be efficient. Have fun as you search for the items on your student's list and remember you wont have to make this trip again for another year! While you're at it, surprise your kiddos with one or more of these cool school supplies.