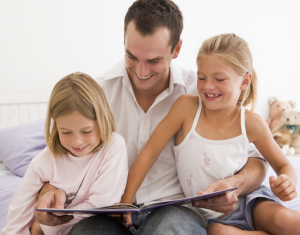 Like brushing teeth and putting on pajamas, reading should be included in your child's nighttime routine. After all, there is nothing quite like snuggling up together and opening a favorite book! If you're looking for some titles that will help your kiddo have sweet dreams, Red Apple Reading has some bedtime book suggestions for you!
1. Goodnight, Goodnight, Construction Site (Sherri Duskey Rinker) – If your little one is a fan of big earthmovers, he will love this title! Watch as all the hard working vehicles finish their work and settle in for bed. For ages 1 and up.
2. Dr. Seuss's Sleep Book (Dr. Seuss) -This book is sure to make you and your kiddo yawn. Make sure your little ones are in bed before they read this one! A fun title for young and middle readers.
3. Llama Llama Red Pajama (Anna Dewdney) – Kids will be able to relate to little Llama's bedtime angst when Mama Llama turns out the light and leaves the room. Mama Llama's reassurances will remind young readers of an important truth. Ages 3-5.
4. How Do Dinosaurs Say Goodnight? (Jane Yolen) – Discover how dinosaurs say goodnight in this funny book featuring a cast of ten delightful dinosaur characters. Your kiddo might recognize some of these typical bedtime antics and learn that these dinosaurs really do know the proper way to go to bed. Ages 4-8.
5. Steam Train, Dream Train (Sherri Duskey Rinker) – We have to hand it to her – Rinker really knows how to write a good bedtime book! Author of Goodnight, Goodnight, Construction Site, Rinker brings us another title sure to inspire sweet dreams! If your little one likes trains, this is the nighttime book for her!
6. Kiss Goodnight (Amy Hest) – Sam's mom has made sure he has everything he needs for a goodnight's sleep – but there is one thing left! Parents will enjoy reading this sweet bedtime book to their little ones. A nice title for the preschool crowd.
7. It's Time to Sleep, My Love (Nancy Tillman & Eric Metaxas) – The animal world is settling in for a good night's sleep in this lullaby/story. A pleasant nighttime book to read to your child before they drift off to sleep. Ages 2-3.
8. Good Night, Gorilla (Peggy Rathmann) – This bedtime book will have your little one giggling as he witnesses the mischievous zoo animals' shenanigans. Parents will empathize with the tired night watchman who thinks he is "tucking in" his charges for the evening. Ages 1-3.
9. Bedtime for Frances (Russell Hoban) – 4- to 8-year-olds will enjoy this classic bedtime tale starring the beloved badger, Frances. This cute creature attempts to postpone bedtime by asking for milk, extra kisses and more! See if Frances finally makes it to sleep by the end of this heartwarming story.
10. Goodnight Moon (Margaret Wise Brown) – I have saved my personal favorite for last. Multiple generations have enjoyed this timeless bedtime treasure. A simple tale about a bunny and his room, Goodnight Moon is a classic that should be read over and over to every young child. If you don't own this book, go out today and buy a copy for your household! Ages 1 & up.
Red Apple Reading wishes you and yours sweet dreams!