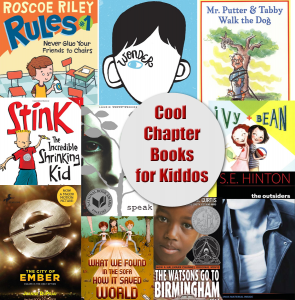 Is your kiddo looking for a great new book to plunge into? Red Apple Reading has some cool chapter book suggestions for readers of all ages. Peruse this list of titles and get a few for gift giving, or head to your local library during winter break and pick up a book today!
Mr. Putter and Tabby Walk the Dog (Cynthia Rylant) Ages 6-9. Beginning readers will love the mishaps of Mr. Putter and his cat Tabby. In this installment, Mr. Putter discovers that his neighbor's bull dog isn't the dream dog he expected!
Roscoe Riley Rules #1: Never Glue Your Friends to Chairs (Katherine Applegate) Ages 6-10. Young readers will enjoy this funny read about loveable 1st grader, Roscoe Riley. Roscoe tries to help his teacher out when his classmates have trouble sitting still for their upcoming performance.
Ivy & Bean (Annie Barrows) Ages 6-10. Get ready for the entertaining adventures of Ivy and Bean – two girls with opposite personalities who discover they really do enjoy each other's company! This funny book about an unlikely friendship will entertain young readers.
Stink (Book #1): The Incredible Shrinking Kid (Megan McDonald) Ages 6-9. Look out – Judy Moody's younger brother, Stink, has his own book series and your kiddo will love it! Follow this lovable 2nd grader as he pulls out all the stops to appear taller.
Wonder (R.J. Palacio) Ages 8-12 – Ten year old August was born with a facial deformity. When he begins 5th grade in his first main stream school, he hopes to fit in with the other kids. This story is told not only from August's perspective, but also from the perspective of several other characters. Palacio's debut novel delivers a wonderful lesson on empathy, friendship and compassion.
The Watson's Go to Birmingham-1963 (Christopher Paul Curtis) Ages 8-12. Nine year old Kenny Watson lives with his middle class black family in Michigan. After his older brother Byron gets in trouble one too many times, Mr. and Mrs. Watson decide the boys need to spend the summer with their grandmother in Birmingham, Alabama. This heartwarming novel will have you laughing one minute and choked up the next. This is definitely a must read for middle readers!
What We Found in the Sofa and How it Saved the World (Henry Clark) Ages 8-12. A strange treasure found in between the seat cushions of an abandoned couch throws Fiona, Freak, and River into an adventure in which they must save the world!
The City of Ember (Jeanne DuPrau) Ages 8-12. The first of four in the Books of Ember series. After 250 years, the storerooms in the underground city of Ember (a final refuge for humans) are running out. Main characters, Lina and Doon, are determined to find their way out of Ember and into the city of Light.
The Outsiders (S.E. Hinton) Ages 12 & up. Ponyboy is a 14 year old orphan living with his two older brothers. He narrates a poignant story about a town divided into two groups: Greasers and Socs. This classic from Hinton is a compelling story that all teens should read.
Speak (Laurie Halse Anderson) Ages 12-17. A serious novel, Speak is the story of Melinda, a young girl who was raped before the start of her freshman year of high school. As the school year progresses, Melinda struggles to deal with this haunting trauma but eventually she courageously speaks out. I recommend that mothers read this along with their daughters. My 15 year old and I read it together and were able to discuss this very important topic.
What are your child's favorite chapter books? Leave a comment below with your suggestions!