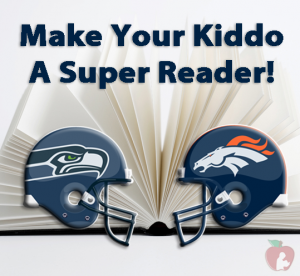 The time of year that football fans look forward to the entire season is here – Super Bowl Sunday. Whether you're a Seahawk's fan or a Bronco's fan, (or you just like watching the commercials!) we can all appreciate the hard work and talent it takes for the competitors to achieve this goal. At Red Apple Reading our dream is for children to be "Super Readers". Like the two teams competing in the Super Bowl, it takes hard work, dedication, and lots of support to reach this goal. Red Apple Reading has five suggestions on how you can help your child achieve Super Reader status!
Practice Sight Words – If you are a parent of a young child, there is a good chance you are familiar with the term "sight words". Sight words are words that are commonly found throughout written texts that your kiddo needs to recognize simply by sight. Fortunately there are some great apps available to help you in this important endeavor. Sight Words and Dolch Sight Words (available from Google Play) are two of the many good apps out there.
Set Aside Dedicated Reading Time – There should be a block of time each day dedicated strictly to reading. Even if it is only 20 minutes, dedicated reading time will help your child discover the joys of reading. Hopefully 20 minutes will stretch into 30, 40, then an hour. Eventually you will have to tell your child to put down his book and turn off the lights for bed!
Practice Reading Aloud to Pets and Toys – I came across a very interesting article recently about a school that uses therapy dogs for children to read aloud to. This is a brilliant idea (particularly for struggling/shy readers) that can easily be transferred to the home. Encourage your child to read aloud to her dolls, stuffed animals and pets. Your child's reading skills will improve and your cat will be well rounded!
Pick What Interests Them – Did you always dream of reading your favorite classic children's book to your child only to have him turn up his nose at your selection? As a parent, it can be disappointing when our kids don't like the same things we do. During these times, it is important to keep the big picture in mind: cultivating a reader. If your kiddo can't get enough of Transformers, make sure he has plenty of books about those robots in disguise! After all, your child is more likely to pick up a book that contains subject matter that is interesting to him.
Get a Membership to Red Apple Reading – Red Apple Reading's mission is to enhance the lives of children everywhere by providing a fun and effective alternative to teaching reading to children. With that goal in mind, Red Apple Reading has created a fun online instructional software program that makes reading fun for your child. Peruse the website and check out some of the lessons and games. You can even play the first unit of their newest level, Island Adventures, for free on the Free Play page. We think you'll like what you see and want to purchase a membership for your little one!
Reading is a life skill that will help determine the future success of your youngster. Make sure you are doing all you can to get them off to a good start. With the appropriate support and encouragement, your child can become a Super Reader!