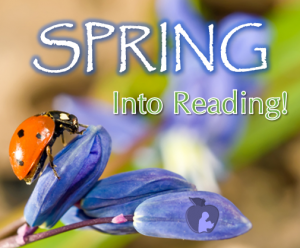 Spring has finally sprung! Although parts of our country are still experiencing winter-like weather, we are finally beginning to see the light at the end of the tunnel. With the arrival of the spring season, our thoughts turn to new beginnings. The beginning blooms of flowers and trees remind us just how wonderful fresh starts really are. Spring is also a great time for your family to start fresh reading habits. In honor of this much anticipated season, Red Apple Reading has five suggestions for how you and your family can "spring into reading"!
Indulge in a New Book – When was the last time you purchased a book purely for pleasure? Oftentimes, we only visit the bookstore when our kids need a book for a school assignment. Why not take the family on a surprise trip to your local bookstore and treat everyone to a new book? Make an agreement to finish your books by a certain date and then celebrate with a special supper!
Start a Book Club – Spring provides the perfect opportunity to begin your own book club. Invite friends and family to join you monthly or quarterly to discuss an agreed upon book. Take turns choosing what you will read so everyone will have ownership in the club. Remember, book clubs are not just for grown-ups – kids love getting together to chat about a favorite book as well. With a little forethought, you can come up with some creative activities related to their book; and instead of coffee, you can serve milk and cookies!
Read Outside – There's only one thing that beats reading a good book – reading a good book in the spring sunshine! After all those months your kiddos spent cooped up in the house, they are probably overdue for some fresh air! You don't have to choose between reading and enjoying the outdoors; both activities can easily be combined. If your kids see you taking a book outside, they are likely to follow suit. So set the example by grabbing a book and a blanket and heading for the yard!
Collect Books for a Local Charity – Many schools and public organizations could use some new books for their libraries. Your family can lead the way in organizing a book drive for your community. As a family, decide what charity/organization you want to receive the contributed books. Next, get to work gathering books from the people in your community. If a family member has an upcoming birthday, you could ask guests to bring a book instead of a gift. Instead of having people bring donations to you, go to them to collect gently used books. For more tips on how to hold a book drive, visit the Do Something website.
Get a Membership to Red Apple Reading – Another fantastic way to help your family "spring into reading" is by purchasing a membership to Red Apple Reading. Sign up and your children can easily access fun and motivating lessons from any internet connected computer or laptop. Track progress, receive email alerts when a lesson or unit is completed, and print extra materials to practice reading offline. Online members even get free apps for on-the-go learning! Visit Red Apple Reading today to learn more about this exciting reading instruction program and spring specials.