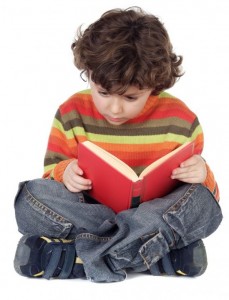 As parents we want to support our children in all their endeavors. Whether they are learning to walk, ride a bike, or play an instrument, we want to provide them with the necessary resources to help them succeed. Reading is also an important endeavor for children to master. Red Apple Reading would like to share 5 essential resources parents can employ as they raise their young readers.
1. Books – This probably goes without saying, but if you want to raise a competent young reader, you need to have books in the house. Even a small library of books can be enough to inspire and challenge your kiddo. Children need to have a selection of books to choose from for both independent reading and for reading time with parents. If you are on a budget (and most of us are), visit a local thrift store and pick up some second-hand books, or visit your local library. You can also check out sites such as Half.com and Amazon to purchase gently used books. Another great book resource is Dolly Parton's Imagination Library. If your child is between the ages of birth to five years, you can register online and a free book will be delivered to your home monthly!
2. ABC Manipulatives – Another important resource for young readers is alphabet toys/manipulatives. There is no end to the learning toys available that allow youngsters to interact with letters. These toys include alphabet blocks, magnets, flash cards, etc. A quick perusal of Pinterest will yield several ABC manipulative suggestions. One particularly helpful blog with several alphabet gift ideas is And Next Comes L. By providing your kiddo with a few alphabet toys, you help them become familiar with their letters. Your child's interaction with letters will encourage word building and lay a foundation for future reading.
3. Sight Word Flash Cards – Sight words are words that are commonly found throughout written texts which kids need to recognize on sight (without sounding out phonetically). Young children need to practice these words often in order to be successful readers. Chances are your kiddo is already reviewing these daily in class, but the extra work at home will pay huge dividends toward their reading success. There are many other activities you can practice using these common words that will help your child become a better reader. Visit Red Apple Reading's Sight Word Savvy Pinterest board for some great ideas.
4. Time – One of the most important resources you can make available to your young reader is your time. Children need their parents to spend dedicated reading time with them daily. This includes time reading aloud to them and listening to them read. Spending quality time curled up with a book together shows your child that reading is important. Reading aloud to your kid demonstrates fluency – an important skill to becoming fully literate. Listening to your child read can feel tedious; it can be painfully slow. However, the one-on-one instruction will help her to improve and before you know it, she will be reading like a champ!
5. Red Apple Reading Membership – Red Apple Reading makes learning to read fun! Our Learning to Read levels offer engaging online instructional software that captivates young school-aged children 4 to 9 years old, turning them into active, confident readers. This is an excellent resource for families with young readers. Visit our website today to learn more about this exciting reading program! Or have an iPad? Look for our many apps in iTunes.