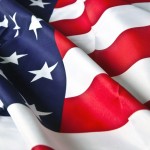 Memorial Day weekend is celebrated on the last Monday in May each year. This day was set aside by the U.S. government in order to commemorate those who have died in war. Red Apple Reading suggests that you incorporate some Memorial Day themed events into your schedule and discuss the holiday's significance with your children. Here are some Memorial Day activities you and your family can enjoy together.
Make a Treat – It's fun to spend a little time in the kitchen with the kiddos. This Memorial Day weekend, make some tasty patriotic themed treats to enjoy together. Check out these 12 patriotic snacks from Simply Sweet Home!
Read a Book – Do your children know why we celebrate Memorial Day each year? This weekend locate a book about this special holiday and sit down and share it with your kids. Don't let this holiday pass without learning its true meaning. Visit Amazon.com for a list of suggestions.
Research Memorials – If you've ever been fortunate enough to visit Washington D.C., you've probably seen many of its beautiful memorials. However, you're not out of luck if you can't make it to D.C. You and your children can view the war memorials online and learn a bit of their history.
Take a Field Trip – The United States is home to several famous battlefields. Whether Revolutionary or Civil War, you may live near one of these locations. Find out if you are in driving distance of one of these historical sites.
Pack a Picnic – Even if you can't go away for the long weekend, you can still enjoy Memorial Day in your own town with a picnic at your local park. Pack a basket with your favorite treats and enjoy an afternoon of outdoor fun with the family!
Backyard BBQ – Another fun way to enjoy the sunshine this weekend is by hosting a backyard barbeque. Get out the grill and invite friends and family over for some burgers and hotdogs.  Visit Center Cut Cook for some great recipes.
Get Crafty – Most kids love to craft! Memorial Day weekend is the perfect time to get out the glue and scissors and get crafty with the kids. No Time for Flashcards has 13 great patriotic crafts your kiddos will enjoy.
Visit a Veteran – Chances are your family knows of someone who has served in the military. This weekend take time out to spend with these precious veterans. Memorial Day weekend is a great time to thank them for their selfless service and listen to their memories.
Hold a Photo Shoot – Why not use your holiday weekend to make those family pictures you've been meaning to take? Clean up the kiddos, grab your camera, and head to a picturesque venue near home. If you're feeling especially patriotic, dress the children in red, white, and blue to commemorate the weekend.
Visit Red Apple Reading – Let the kids brush up on their reading skills this weekend at Red Apple Reading.com. Your children will love the fun games and you will love the improvement you see in their reading!