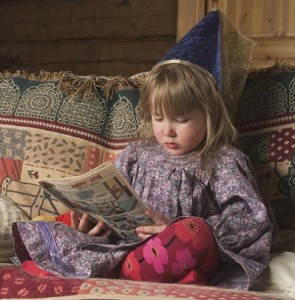 We all know how nice it is to have a space of our own – even if it is a small corner of a room. My husband remembers creating a space in the back of his closet as a little boy where he could go and be alone. He even brought a lamp into his nook so he could read books! Kids need quiet time alone just like us adults. It's important for children to have a space where they can reflect, daydream, rest, and of course, read! Perhaps you would like to create a special place for your little one, but don't know where to begin. Look no further – Red Apple Reading has 4 sure-fire characteristics of a perfect reading nook for your child!
Cozy – Have you ever noticed how children enjoy being in small spaces? How many times have you purchased a large item and, before you realize it, your child has made a house out of the product's box? Or what kid doesn't love those small child-sized tents that pop up? When you're creating a reading nook for your kiddo, you don't need much space. In fact, the definition of nook is "any small recess". A corner of the room, a window seat, or even a section of a walk-in closet will suffice for a cozy book nook for your little one!
Calm – Every kid needs a place to play and be a bit rowdy; but a reading nook is not the place for this type of play. When setting up an area for reading, it's important to create a calm atmosphere. If possible, use soothing hues such as muted colors and/or shades of blue.  Check out this Huffington Post article about colors that reduce stress. Additionally, you want to place your nook in a relatively quiet area that is free from family traffic. A quiet area reduces distraction and helps your child relax. Make sure your lighting is adequate for reading but not harsh. A lamp with a low wattage bulb is a nice addition to any reading space.
Creative – While your child's reading nook should be simple and calm, it should also inspire creativity. You want to ensure your kiddo has the proper tools for nurturing his creative spark. For example, a notebook and pencil is useful for recording thoughts or writing stories. A small bookshelf or basket with books and magazines that are frequently rotated will ensure he has a nice selection of reading material. You may also want to place some pictures or maps on the wall for further inspiration. A lap desk and a comfy chair or bean bag are also nice additions.
Cute – Last, but not least, your reading space should be inviting. After all, you want your child to enjoy escaping to her nook! So be sure to add some personal touches to your kiddo's area. Place one or two stuffed animals for her to cuddle up with as she reads along with some pillows with cute designs. A blanket in the shade of her favorite color also provides a special personal touch . When you have completed your reading nook, it should not only be functional but fun to visit as well!
We would love to hear your ideas on creating a reading area for your youngster. Leave us a comment below and share your vision for the perfect reading nook.