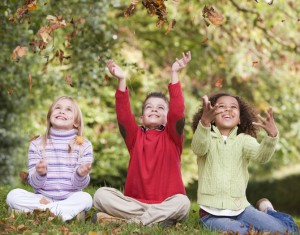 Fall is here once again! A new school year, changing leaves, football games, and pumpkin pie are just a few of the good things we associate with the change of season. This year why not add reading to your list of fall favorites? If your little ones have lost their love of reading, autumn is the perfect time to rekindle a reading romance. Get ready – It's time to "fall" in love with reading!
Shade Tree Reading – One of the best things about the fall season is the reds, yellows, and oranges of the changing leaves. Enjoy nature's beauty and a good book this autumn. Grab a blanket and book and settle in under the prettiest tree in the park. By the way, I hear a shade tree is also a great place to grab a nap as well!
Football-Themed Books – Nothing signals the commencement of fall like the beginning of football season. If your little one is a football fan encourage his interest with a football-themed book. Check out this list of fun books about football from Fantastic Fun and Learning.
Cocoa and a Book– Sometimes a cold snap accompanies the autumn season. If your neck of the woods experiences an unseasonably chilly day, have some indoor fun at your local bookstore. Peruse the bookshelves with your kiddo then enjoy a hot cup of cocoa together afterwards! An occasional visit to the bookstore (along with some special time with mom and dad) will go a long way in encouraging your kiddo to read.
Reading in the Woods – Would your child rather ramble around outside instead of reading a book? Then sneak a little reading into her day! Pick up a field guide from the local library and head out into the woods. Have your child identify the leaves and read descriptions from the guide aloud to you. She'll be having so much fun she won't realize she's met her daily reading quota!
Camp Fire and a Spooky Story! – Nothing beats roasting marshmallows over a camp fire in the fall. Campfires also make the perfect backdrop for a spooky story. Check out a scary story from the library and read it aloud to the kiddos while sitting around the fire. If your little ones don't enjoy a good scare, then choose a fall-themed book to read instead. The fire will warm their bodies and the book will warm their heart!
Red Apple Reading wishes you and your family a wonderful autumn! Be sure to make the most of your fall and add a hardy dose of reading to your child's plate. Once they've developed a taste for the written word they will be reading all year long!