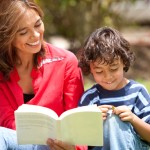 While our family celebrations may have looked a little different last weekend, many of us like to reflect on our blessings this time of year. Here at Red Apple Reading, we are especially grateful for the many resources available to support children's literacy. After all, the ability to read and write has a direct effect on our kiddos' future success. Did you know one of the most important resources available to your child is you – their parent? You don't have to be a teacher in order to meaningfully contribute to your child's literary development. All it takes is a little time and effort. As our gift to you, we have some tips to help you get started!
How You Can Support Your Young Reader:
Read Together – Probably the most important thing parents can do to promote literacy in their children is to simply read with them. Whether they read to you or you read to them, time gathered around a book is time well spent.
Visit the Library – Regular visits to your local public library speaks volumes to your child about the importance of books.  When parents are willing to take time out of their busy schedules to pop in to the library and borrow books, children realize that reading is valuable.
Play Games – Kids love to play games. Why not sneak a little learning into game time? For example, you could take turns naming foods that begin with each letter of the alphabet. Sometimes my five-year-old and I play a game where I sound out a word (C-A-T) and he puts the sounds together to form the word. It doesn't take a creative genius to come up with a few simple games that encourage literacy.
Build a Home Library – A home that is filled with books is a home that promotes literacy. There is no need to break the bank in order to build your home library. Thrift stores and garage sales are excellent avenues for obtaining books at reasonable prices. Websites like Half.Com and Amazon also offer used books at reduced prices.
Help With Homework – Active involvement with homework is a crucial element in supporting your young reader. While school may be the primary vehicle for educating your child, parents should never underestimate the importance of their interest in the educational process. The simple act of sitting near your little one and being available to help will serve as a major source of support.
Model Reading – You've no doubt heard the old saying, "Actions speak louder than words". These words of wisdom are especially true when it comes to encouraging good reading habits. We can talk all day about the importance of reading; but if our children never see us pick up a book, our words will ring hollow.
Make Technology Time Count – Parents can also help their little ones find online games that promote literacy. Fortunately, we know just the site to recommend. 😉 Red Apple Reading's online software program is a tool that every parent should have in their bag of resources! Check out our 30 day free trial today!