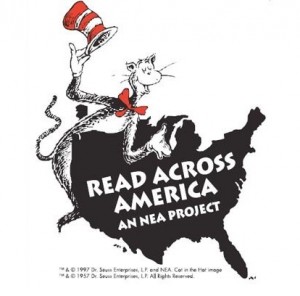 Read Across America Day is right around the corner and observed every year on Dr. Seuss' birthday –  Monday, March 2nd! Red Apple Reading wants to help your family prepare to celebrate this special occasion! Check out our list of fun Seuss-themed activities that will inspire your kiddos to read, read, read!
Dr. Seuss Book Marathon – This is the perfect day to binge read all of the Dr. Seuss books you can get your hands on. What better way is there to honor the great author than by enjoying his extensive collection of books? So head to the library, bookstore, or your own personal bookshelf and dig into all the Seuss books you can find!
Get Crafty – Do your little ones enjoy crafting? If so, you are in luck! There is no end of Seuss-themed crafts out there for the creating. Check out these 12 adorable Dr. Seuss crafts from the folks at Blissfully Domestic. You'll find crafts inspired by The Lorax, Fox in Socks, The Cat in the Hat, and more!
Snack – No day is complete without at least one snack break. Surprise your child with a Seuss snack on March 2nd! Do you like green eggs and ham? Dish some up for your kiddo and find out if she does! The Happy Home Fairy also has some great snack ideas for your Seuss-themed day. Check them out here!
Learn About the Man – Hopefully, your children are already familiar with Dr. Seuss classics such as Hop on Pop, One Fish, Two Fish, Red Fish, Blue Fish, and Oh, The Places You'll Go. But do they know about the man behind the stories? Theodor Seuss Geisel was a very interesting character himself and your kids will enjoy reading more about him. Visit Seussville to learn more about this author.
Dr. Seuss Digital Book Apps – If you have tech-savvy kids who would rather interact with electronics than read a book, never fear! Ocean House Media has several Dr. Seuss digital book apps that your children can enjoy. These interactive book apps will entertain and educate!
Buy a New Book – Read Across America day only comes around once a year. Why not treat your child to a new book in honor of the special occasion? Take a trip to your local bookstore and let him pick a book to buy. Or surprise him with a book you know he's been wanting to read. While you're at, get a book for yourself!
We at Red Apple Reading hope you'll take advantage of fun Dr. Seuss-inspired activities to be enjoyed in the coming week! For more information about Read Across America or more activity ideas, visit www.seussville.com.