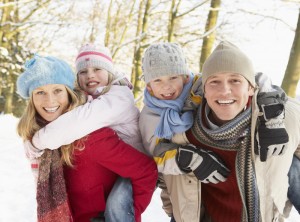 Does the winter weather have your little ones experiencing cabin fever? If you're out of fresh ideas for entertaining the family during the chilly winter days, Red Apple Reading is here to help! Check out this list of 10 winter activities your kids are sure to love.
Winter Walk – It's tempting to stay in a warm house when it's cold outside; but there's no rule that says walks are strictly reserved for warm weather. In fact, winter walks can be beautiful. Quiet snowfall, frozen lakes, and trees filled with winter berries make for a scenic stroll to remember.
Supplies for Shelters – The cold weather season is an ideal time to think of others who have fallen on hard times. Gather up some gently used blankets, scarves, hats, and gloves and deliver them to the local homeless shelter. You will not only bring a little warmth to someone in need but also teach your kids the importance of social outreach.
Camp Fire – Who says fires are only for camping? Gather up your family and some firewood and enjoy an evening by the fire. While you're at it, roast some marshmallows and enjoy a few s'mores. You and your children will look back on those fireside nights with fondness.
Winter Reading – There's nothing better than curling up with a good book on a blustery winter day. Encourage your little one to peruse her book shelf and find a good read. For some great cold weather themed titles, check out Buggy and Buddy's favorite winter themed children's books!
Ice Skating – This winter embrace the cold temps and lace up those skates! Ice skating is good, classic cold weather fun. No outdoor ice rinks in your area? No problem! Indoor ice rinks can be every bit as fun as the outdoor ones.
Hot Chocolate Bar – Hot chocolate has been pleasing cold kiddos for ages! Add a little zing to the next frosty day in your area with a delicious hot chocolate bar. Grab the mugs, lay out your hot cocoa fixings (marshmallows, whip cream, caramel, etc.) and enjoy! Take a look at these great ideas for spicing up your hot chocolate from Lifehack.

Mak

e Your Own Snow – Maybe you're like me and live in an area of the country that doesn't see much snow. Don't fret – you can make your own snow! Growing a Jeweled Rose has a simple sensory snow recipe that your kiddo will love!
Snow Spelling – Here at Red Apple Reading we love creative hands-on-learning. Take advantage of the latest snow fall in your community and have an outdoor spelling lesson. Kids love to play in the snow; so find a stick (or a spray bottle with water and food coloring) and let your little one practice his ABC's in the freshly fallen snow!
Family Game Time – If the winter weather has your brood stuck indoors, then bust out the board games! Children value time spent together as a family and playing a fun game together is something everyone will enjoy. If you have little ones who aren't ready to play on their own, then let them team up with you or a sibling. A little friendly family competition is sure to cure the winter doldrums!
Red Apple Reading – Get online and play some Red Apple Reading games with your child. Your kiddo will love the fun games and you will love the improvement you see in their reading! Check out our free sample lessons today!