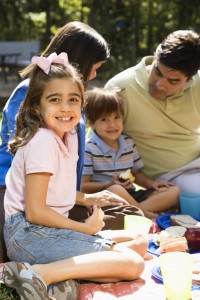 It's that time of year again. The time when the sunshine lasts longer, the temperature rises (hopefully!) and the kids want to get outside and play. It's also time for spring break for many schools across the country. You don't have to go away on an expensive vacation to have a memorable spring vacation this year. In fact, you can enjoy a fun spring break with your little ones without even leaving your own backyard! Red Apple Reading has 7 simple suggestions for some spring break outdoor fun!
Gardening – What kid doesn't enjoy playing in the dirt? Get out your shovel and spade and do some spring gardening with your kiddo over the break. No need to be an avid gardener to pull off this fun activity! Planting a few pots of pretty marigolds will thrill your child and add some color to your yard. Visit your local greenhouse with your little one and plan your spring garden!
Egg Hunt – Easter is the first Sunday of April this year; but who says egg hunting is only for Easter day? Let your little ones practice their hiding and hunting skills over the break with a week-long egg hunt. Try different variations of the classic egg hunt throughout the week. Check out these Exercise Eggs from No time for Flashcards!
Sand Play – If you can't make it to the beach over spring vacation, then bring the beach to you (the sand part at least!). Make a sand tray for your kids to play in over the break. This project is simple to put together and will keep your kiddos entertained all week. All you need is a long, shallow, plastic container, a bag of sand, and toys to play with in the sand – easy cheesy!
Picnic – Make this spring break special with daily family picnics. Choose a meal each day to enjoy outside in the sunshine. Think outside the box – breakfast can be just as much fun outside as lunch! So grab your blanket and the kids and head outside for lunch, breakfast or supper!
Block Party – If your kids are out of school for the week, chances are your neighbor's children are too. Take advantage of the break and arrange for a neighborhood block party one day. Have everyone bring a dish to contribute to the party, get out the lawn chairs and enjoy each other's food and company. The kids can play games afterwards while the adults chat (or join the games!).
Bubble Blowout – Bubbles are fun for all ages. Spring break is the perfect time to break out the soapy solution and spend the day blowing bubbles. If you're looking for some new ways to have fun with bubbles, look no further – What Do We Do All Day has compiled a list of 10 bubble activities for kids that are sure to please!
Feed the Birds – Get in touch with nature over spring break and construct a bird house with the kiddos! Need a little inspiration? Check out Home and Garden's 6 Crafts for the Birds and Squirrels. If you're not feeling particularly crafty, then simply purchase a bird feeder. Your kids will still enjoy watching the feathered friends visit their new home!
Enjoy the sunshine with your children over spring break. You don't have to have a lot of money to have a lot of fun – simply look out your window for a little inspiration. How does your family have fun outside? Leave a comment below and tell us your favorite outdoor activities.