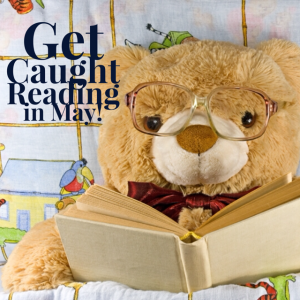 Did you know that May is Get Caught Reading Month? First launched in 1999, Get Caught Reading is a national campaign that reminds everyone how much fun it is to read! But in our fast paced and hectic society, it can be challenging for kids to even find time to get caught reading! Red Apple Reading would like to encourage parents to use this month to help their kiddos discover (or rediscover) their love for reading!
Reward Reading – For some children, picking up a book may require a gentle nudge from Mom and Dad. Consider offering small incentives for reading. These rewards need not be over the top. For instance, every time your kiddo completes a book you could visit the park or allow her to choose what's for dinner.
Model Reading – The old phrase, "Actions speak louder than words", really is true. Rather than constantly nagging your kids to pick up a book, try picking up one yourself. Kids learn what we value by observing how we spend our time. If they see us reading on a regular basis, they will receive the message that reading is important.
Turn off Electronics – We mentioned earlier that sometimes reading requires a gentle nudge. Sometimes this nudge needs to come in the form of unplugging from electronics. Once the television and gaming systems are turned off kids may just discover that there are some pretty interesting books on the shelf!
Create a Reading Nook – Is there a comfortable, quiet place in your home to curl up with a good book? Why not create a small nook that is strictly for reading? An inviting environment goes a long way in encouraging our little ones to take up a book!
Regular Trips to a Library – Take advantage of the hundreds of books in your community that are free for the borrowing! Set aside a time each week to visit your local public library. Keep in mind that most public libraries also have summer reading programs for kids to enjoy!
Take Reading Outside – Is your kiddo happiest when she is soaking up the sunshine? If your little one prefers being outdoors to playing inside, then take reading out to her! Bring a blanket and basket of books outside and enjoy some open air reading!
Start a Book Club – Sometimes kids like activities more if they can participate in them with their friends. Try organizing a book club for your child and his friends. Don't worry about putting together something fancy – some light refreshments and a bit of discussion guidance is all that's needed!
Read Aloud – Kids of every age love being read aloud to! Don't make the mistake of failing to read to your kiddos once they become independent readers. Reading with your children affords good opportunity for discussion and it provides a good excuse for a cuddle!
Reading really is a wonderful pastime! Take the month of May to concentrate on helping your little one discover just how great a good book can be!