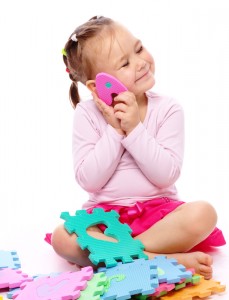 All parents want their children to experience success in life. An important part of parenting is making sure that our little ones develop the skills necessary to be fully literate. You don't have to have a teaching degree in order to help your kiddo learn. In fact, the main way that young children learn is through play! Check out these ideas on how you can make learning fun at home.
Repurpose Household Items – Don't be afraid to think outside of the box when considering ways to teach your children. The primary way young children learn is through play and your home is a treasure trove of teaching materials! Here are a few ideas to get you started:
Flour Power

– Everyone has flour at home. If you want to keep little hands busy while you are preparing supper, set up a small "sand tray" for your kiddo to practice tracing letters. A 9×13 or roasting pan with a little flour, salt, or sugar, becomes the perfect manipulative for practicing letter writing.

Magazine Messages

– Kids love to cut and paste! If your house is like mine, there are several old magazines lying around. Let your little one cut out lots of different letters and identify them as she pastes. If your child is already spelling small words, have her form words with the cut outs.

Lego Love

– How many times this past week have you stepped on one of those pesky Legos that are laying all over the house? Most moms have a love/hate relationship with these building blocks; but children are crazy for them! Check out how this blogger from One Perfect Day used Legos and play dough to spice up her little one's learning.
Vary Reading Material – It's always important to have plenty of reading material available throughout the house! Make sure you have a good variety for your kiddo to choose from, and encourage friends and relatives to donate or purchase books and magazines that you think your children will enjoy. Don't forget about all of the free books at your local library!
Fiction and Non-Fiction Books – I love to read fiction; however, my youngest son prefers to read non-fiction books about animals. It's important for a home library to have both fiction and non-fiction reading material. You may also want to have both shorter picture books and chapter books for read-alouds. How balanced is your kid's bookshelf?

Other Reading Material

 – It's just as important that your child see a variety of reading material available, including magazines, comic books, recipes, cereal boxes, and websites.
Make Sight Words and Spelling Words Fun – Let's face it – it can be difficult to get excited about practicing spelling words and sight words at the end of a busy day. Nevertheless, it's important that our little ones not associate literacy with drudgery. Here at Red Apple Reading we believe learning should be seriously fun! Check out these tips to help bring a little fun to spelling and sight word practice:
Refrigerator Review

– If you have young children there's a better than average chance you have alphabet magnets on the refrigerator. These manipulatives are perfect resources for varying how you review spelling/sight words. Instead of writing or spelling the word aloud, have your kiddo spell it with the magnets.

Wikki Words

– Let your youngster use Wikki Stix to practice his spelling. These colorful sticky manipulatives can be twisted into different letter shapes and are wonderfully mess free!

Red Apple Reading

–Your child will enjoy playing our online games so much that she won't even realize how much she is learning. If you want to give your child a little extra help with sight words, phonics, vocabulary, fluency and reading comprehension, then sign up now for a no risk trial. Red Apple Reading makes it fun to learn!
We would love to hear how you make learning fun at home! Leave us a comment sharing your favorite ways to sneak a little fun into the learning process.