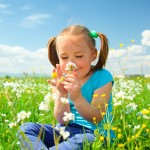 Can you believe it's already time for Spring Break? How do you plan to spend the break with your children? If you haven't made any plans yet, check out these suggestions from your friends at Red Apple Reading!
Start a Garden – Visit a nursery with your little one and find something fun to plant!
Have a Picnic – Grab a blanket and head outside.
Create Sidewalk Art – Spend the morning decorating your driveway with sidewalk chalk and paint!
Bird Watch – Find a bird identification book and do a little birdwatching with your kiddo.
Have an Egg Hunt – It's not too early to start practicing for the big Easter hunt. Check out these fun spins on hunting eggs from My List of Lists!
Tour a Local Business/Charity – Field trips aren't just for school! Schedule a visit to a business or charity your child finds interesting.
Read Outside – Soak up some sunshine as well as some reading time.
Cook Together – Plan a meal with your kid and prepare it together.
Visit a Nursing Home – Senior citizens love to have young visitors! Plan a trip to a local nursing home or assisted living center.
Go to the Library – Busy school days may not be the best time for you to visit the library with your little one. Take advantage of the extra time spring break affords your family.
Indulge in a New Book – Treat your kiddos to a new book over spring break. Check out these fun  spring titles!
Spring Books that Share the Best of the Season from EDventures
Spring Books for Kids from Rhythms of Play
Spring Books for Kids of All Ages from Superheroes and Teacups
15 Gardening Books for Kids from Sunny Day Family
We hope these suggestions have given you a little inspiration for spring break fun with your kids. If your children aren't already enjoying a subscription to Red Apple Reading, spring break is the perfect time to introduce them to serious learning that's seriously fun!