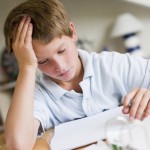 Now that the holidays are over and spring is just around the corner, children are beginning to realize that the end of the school year is in sight. At this time of year sometimes the energy and passion that were previously devoted to homework begin to diminish. How can parents help a child who is having a hard time with their homework or experiencing a homework slump? Red Apple Reading has some suggestions for parents who want to help their children finish the homework race on top.
Renew Your Own Commitment – I have to admit that at this time of year my own enthusiasm to stay on top of homework begins to diminish! I may get to the end of the evening and suddenly remember that I didn't review spelling words with my son. The second semester of the school year is a good time for parents to renew their involvement in homework!
Start Early – Don't leave homework until later in the evening. Let your kiddo grab a snack, have a 30 minute rest, and then tackle homework for the day. Energy diminishes as the evening progresses; the sooner homework is started the better!
Contact the Teacher – Sometimes the best approach is the most direct one. If your kiddo is having trouble completing her assignments, contact her teacher sooner rather than later. Chances are your child's teacher has some good advice to help you navigate through any homework issues you are experiencing.
Check Classroom Websites – If you feel like your little one is being less than forthright about homework assignments, check the teacher's web page. Most educators have their own website where they post daily assignments as well as upcoming tests.
Use Online Resources – I can't tell you how many times I've had to Google something to do with my children's homework assignments. In fact, I wonder how my parents were ever able to help me with my homework without the internet! If you don't understand the new math your kiddo is doing, don't panic! The World Wide Web is full of tutorials and helpful examples to get you started.
Consider Hiring a Tutor – Let's face it, our children don't always take direction from us very well. Nothing seems to produce tears as quickly as a long, frustrating homework session with a parent. You may find that your kid responds better to a third party helping him with his assignments. Consider finding an outside source who tutors children.
Provide Incentives – Even the most disciplined of us appreciate having something to look forward to after completing a hard task. If your kid is suffering from a lack of motivation, try providing an incentive for him. It doesn't have to be anything big or costly; even something as simple as a favorite snack can make a difference in your kiddo's enthusiasm!
If your child is having homework trouble, don't worry! At some point in their school careers, most kids have some sort of struggle with homework. Instead of being discouraged, try employing one of these helpful homework strategies!