Are superstitions real? Or is it all just hocus pocus? The only way to find out is by reading about them! In honor of Friday the 13th, here are some kid-friendly books to check out.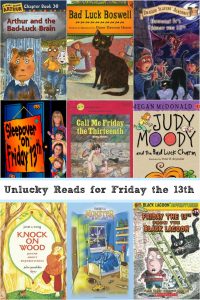 There's a Monster in My Closet by Linda Polistina
Do bad things really happen on Friday the 13th? And what really is in Timmy's closet?
Beware! It's Friday the 13th by Kate McMullen
This book is unlucky #13 in the Dragon Slayers' Academy series.
Arthur and the Bad-Luck Brain by Stephen Krensky
Friday the 13th from the Black Lagoon by Mike Thaler
Is it truly going to be an unlucky day? Find out in this story!
Call Me Friday the Thirteenth by Betty Bates
Sleepover Club on Friday 13th by Louis Catt
Five girls end up in monkey business on the dreaded day.
Judy Moody and the Bad Luck Charm by Megan McDonald
Judy wins and does well at everything… until something terrible happens to her lucky penny!
Bad Luck Boswell by Diane Dawson Hearn
Black kitty cat Boswell is surrounded by superstitious townspeople. Will the new witch in town turn it around?
Knock on Wood: Poems About Superstitions by Janet S. Wong
After reading these books, you and your kids are sure to have developed some opinion about superstitions. Enjoy the reads, and don't step on a crack!