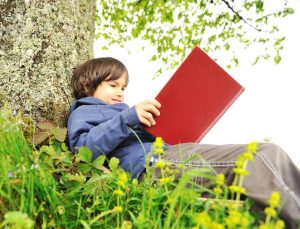 Once again the school year has flown by and summer is upon us. Many parents are thrilled for your kids to have some down time, but don't relish the fight against television, video games, and social media. For me, summer reading has always been an important key to adding some loose structure to the break. However, reading can create mixed feelings in our kiddos: some are good, some are bad, and some are just plain ugly!
Summer reading is important and can be enjoyable if you present it the right way to your children. If you're looking for some fun ways to implement reading into your kid's summer break, Red Apple Reading invites you to try some of the following suggestions!
Scavenger Hunt – At the beginning of the summer plan a weekly scavenger hunt at your local library. For instance, the first week have your child search for a book about animals. The next week look for a mystery story. By planning a hunt with different genres each week, you can turn reading into an adventure!
Reading Rewards – Have your kid "purchase" technology time, swimming time, or ice cream dates. Don't worry – this isn't a shady scheme to make a little side money! Kids earn these prizes by reading! You decide how it works. Perhaps 1 hour of reading earns 20 minutes of television or 1 chapter book earns a trip to a fast food restaurant.
Family Reading – At the beginning of the summer, pick a book that the entire family can enjoy. Spend half an hour each day reading the story aloud to everyone. You'll be surprised how much you and the children look forward to this daily activity!
Book Surprise – The first day of summer break present the kids with a surprise gift basket full of new books. These don't have to be brand new titles; you can visit thrift stores and second hand shops to purchase "new to you" books.
Technology Temptation – If your kid is tech savvy, then take advantage of that passion and tempt them with technology! Allow your child to engage in reading in ways that don't involve traditional books. For instance, did you know Red Apple Reading offers a bi-monthly e-magazine for kids and parents? Check it out today! 

 

Mystery Book Basket – We love this fun idea from Inner Child Fun. Similar to "Blind Date with a Book", this kid friendly version will add a little mystery to their book choice!
Library Programs – Most public libraries have summer reading programs for children. These programs encourage summer reading through fun programs, activities and prizes. This year's Collaborative Summer Library Program theme is On Your Mark, Get Set…Read!
Book + Activity – Does your little one love a good craft or project? If so, combine her love of creativity with reading. Come up with a craft to make to go along with a book she is reading. Don't worry if you're not the creative type! A quick perusal of Pinterest will offer an abundance of ideas!
Be prepared to offer your kids a summer full of reading fun! With a little forethought and planning, you can experience all the good of summer reading and (hopefully!) avoid the bad and the ugly!