When was the last time you or your children visited the library? Devoted patrons sing the praises of their local libraries, but others don't really see the point of visiting any longer. In fact, with the rise of the digital age, many people are wondering if libraries are a dying establishment. We believe there are several reasons local public libraries are still a valuable resource to the public.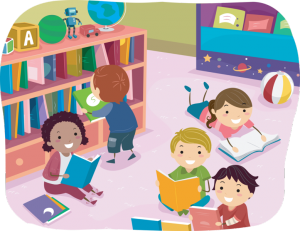 Red Apple Reading offers up a few reasons why visiting your local library is still a good idea!
It's fun! – If you give me unlimited access to a building filled with books – that's enough for me! However, there is so much more to experiencing a library than wandering the bookshelves (though you really should give that a try sometime!). I find that one of the best outings I can offer my younger son is a trip to the children's section of our local library. He can use the cool interactive Promethean table, visit the pet turtle, and play with all of the cool blocks and games they have available.
Peace and Quiet – Parents know how challenging it can be to get work done at home. However, I can always pack up my laptop and head to the library. Not only do I have access to free WiFi, I also have access to a peaceful and relatively quiet environment.
Technology – It's easy to think of libraries as antiquated buildings with dusty books, but in reality most libraries have changed with the times. Our local library has several computers available for public use. They also have a wonderful website that allows me to checkout or renew books online, download books, and view computer tutorials.
Public Services – Libraries also offer wonderful services to the community. Very often they present classes on government programs, personal finance, and computer seminars. They also often have weekly story time and activities for children. A quick check of the library website will show you what services are available in your town.
Socialization – While it is super convenient to take care of tasks from the comfort of your own home, this doesn't allow you to interact with other people. Local libraries afford visitors the opportunity to socialize with one another. Book clubs, creative writing classes, story time, and movie viewings are just a few examples of ways libraries encourage socialization.
Books! – Yep, this one is a no-brainer, but it bears reminding that libraries offer access to a wide variety of reading materials. Sure, I could download any book I want onto my tablet, but it might not be free!
Perhaps, instead of heading toward extinction, libraries are merely evolving. Whatever your views are about the relevance of libraries, we think you will be touched by this heartwarming story about a secret library in Syria. You'll be amazed at how one library has changed the lives of a war torn community.