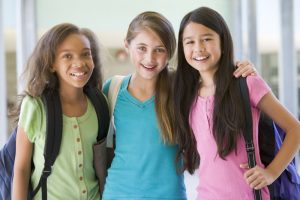 The school supplies have been purchased, orientations attended, and bed times have been established – the new school year is well underway! Most parents have started settling into the routine for the fall, but how are your children adjusting? Don't assume that no news is good news. Specific probing statements and questions such as, "Tell me about your teacher" or "What subject do you think you might struggle the most with this year?" can help your child to open up. Red Apple Reading has some tips for helping your child navigate issues with friends, teachers, and homework.
Friends – One of the perks of going back to school is hanging out with friends. While these interactions may normally be positive, sometimes they can become stressful. If your kiddo seems to be having friend drama, try the following:
Don't Panic

– Very often kids tend to work these things out themselves. Unless your child seems to be more upset than normal, resist the urge to jump in too quickly.

Try Something New

– If your child seems to be having trouble making friends or her current friends are (ahem) less than desirable, encourage her to join some extracurricular activities. New activities will provide new acquaintances your child might not otherwise run into.

Host

– Have your child's friends over to your house periodically. This way you can observe firsthand any personality conflicts and perhaps offer a bit of guidance when issues arise.
Teachers – Every parent of school-age children knows the stress of waiting to discover who their child's teacher will be for the new school year. Teachers spend several hours each day with our children and have a profound impact on their school experience. How should parents address issues with teachers?
Get to Know the Teacher

– Don't depend on hearsay from other parents or your child's interpretation of events when forming an opinion of their teacher. Make an effort to get to know the teacher yourself. Ask if there is any way you can help her over the course of the school year. She'll appreciate the help and you will be able to see how she interacts with the children and get to know the atmosphere of the classroom.

Frame Concerns Diplomatically

– Be diplomatic when addressing concerns with your little one's teacher. Remember that you and your child will be interacting with this person for the remainder of the school year – you don't want to get off on the wrong foot. For instance, if your child seems to be intimidated by the way his teacher speaks to him, you could say, "Billy may seem closed off at times; we've found that he responds best to clear instructions delivered with a smile!"

Use Administration as a Last Resort

– Most problems involving teachers can be easily resolved. However, if you have tried your best to deal with the situation in a courteous, understanding way without resolution, it may be time to speak to a principal. You are your child's advocate and certainly have the right to address issues that concern your child's well-being.
Homework – The older our children get, the more potential there is for problems with homework. Try employing some of the following strategies when you run into homework trouble!
Use the Internet

– Is there anything that strikes more fear into the heart of a parent than when he's asked to assist his 3rd grader with math homework? (Did you know they don't carry the one anymore when doing multiplication?!) Don't despair! A quick perusal of the internet can give you the much needed tutorial you need to be able to assist your kiddo with his homework.

Talk with the Teacher

– If your kiddo is struggling with a particular subject, contact his teacher sooner rather than later. It is much better to get on top of the problem right away than to wait until your child has fallen far behind. Most teachers are happy to provide parents with resources and ideas to help them get their kid back on track! You may also want to check the teacher's web page. Many instructors provide helpful resources that are only a click away!
Don't let beginning of the year problems get you and your little one down. Most issues can be resolved with the support of a loving, involved parent. Here's wishing your child a fantastic school year!