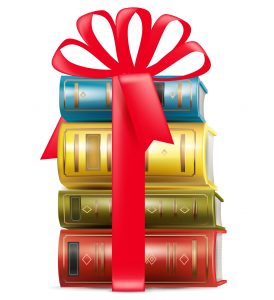 It can be intimidating trying to find the perfect present for every person on our list. Plus, last-minute shopping can often be chaotic – hitting the stores and surfing online can put a damper on the merriest person's holiday cheer. Look no further. Red Apple Reading has the perfect gift idea for everyone on your list: BOOKS!
Books Provide an Escape – When you give a book you give a vacation. Books are the perfect way to escape our everyday lives and experience something new and different.
Books Engage the Mind – There's nothing wrong with some occasional mindless entertainment; but books are not only entertaining, they also engage the mind.
Books Keep on Giving – A book is the gift that keeps on giving. You can go back multiple times to a good book and revisit the characters who have become old friends.
Books are a Good Fit – Books are a good fit for everyone. You can always find a book no matter what the gift recipient's interests. Biographies, novels, cook books, graphic novels… the possibilities are endless!
Books are Inexpensive – Relatively speaking, books are not an expensive gift. Thrifty shoppers can also take advantage of sites such as Half.com which often have new or like new books for discounted prices.
Books Communicate Value – When you give a book as a gift, (especially to your children) it communicates that you value reading. It's important for our kids to understand that we as parents consider reading to be a gift.
Books are Versatile – Books are available in so many forms these days you can easily find the right version for even the pickiest person. My husband is not a big reader but he's listened to hundreds of audio books on his commute to work over the years. Maybe a subscription to Audible would suit a similar person on your list. Or, if your loved one doesn't have the space for books, why not give him a Kindle or Nook gift card?
Books are Simple – No special skills are needed to work a book. Anyone who can read can enjoy one. Even children who aren't yet readers enjoy looking at picture books!
Books are Easy to Wrap – We all know how demoralizing it can be to attempt to wrap a gift that is weirdly shaped. Books are easy. Books are straightforward. Books are easy to wrap.
Books can be Shared – After you read a book you can pass it on for others to enjoy. In fact, a book is one of the few things you can unashamedly re-gift!
It's pretty easy to see why a book is the perfect present. We'd love to hear about a meaningful book you received as a gift. Leave us a comment below! Merry Christmas from all of us at Red Apple Reading!