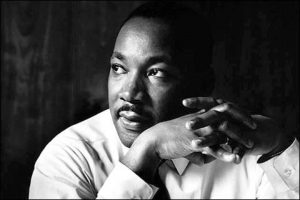 Every January our country celebrates Martin Luther King, Jr. Day. This holiday is the perfect time to reflect with your child on the amazing life of one of civil rights' most important figures. Why not take some time as a family to discuss some of the significant events in King's life? Red Apple Reading has compiled a list of 10 things your kids should know about Dr. King to get you started.
Martin Luther King, Jr. was born January 15th, 1929 in Atlanta, Georgia.
King was intelligent. He skipped two years of high school and enrolled in Morehouse College at age 15. After he graduated from Morehouse he attended Crozer Theological Seminary where he received a Bachelor of Divinity degree. He then went to Boston University where he earned his doctorate in systematic theology.
Some of King's primary influences were his father – Martin Luther King, Sr., Jesus Christ, Morehouse President – Dr. Benjamin Mays, and Mahatma Gandhi.
King believed that peaceful civil disobedience was the best and most effectual way of bringing about political and social change.
King wrote Letter from a Birmingham Jail (a stirring defense of civil disobedience) in April of 1963 after being arrested for participating in a civil rights campaign in Birmingham, Alabama. This powerful manifesto was written without reference materials or notes and was over 7000 words long. Click here to read or listen to King's letter.
King presented his I Have a Dream Speech from the steps of the Lincoln Memorial on August 28, 1963. Dr. King delivered his speech at the March on Washington, which coincided with the 100th anniversary of the signing of the Emancipation Proclamation. Click here to view King delivering his full speech.
Dr. King received the Nobel Peace Prize in 1964. He was the youngest person to ever receive the prize.
King was the influential force behind the Montgomery Bus Boycott, the March on Washington, and the Selma March. These events helped to propel the Civil Rights Act (1964) and the Voting Rights Act (1965).
King was fatally shot at the Lorraine Motel in Memphis, Tennessee on April 4, 1968 by James Earl Ray. He was in Memphis supporting a sanitation workers' strike.
King is remembered on the 3rd Monday in January, on Martin Luther King, Jr. Day. This holiday was observed for the first time on January 20th, 1986.
If you would like to further explore the life of Dr. King, check out the following websites!