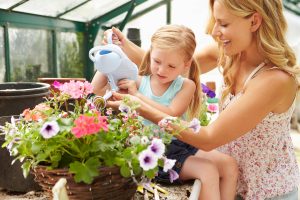 Who doesn't love the arrival of spring? The weather warms up, the flowers begin to bloom, and the days last a little longer. The advent of spring marks a newness of life; and the changes taking place outdoors seem to spark something inside of us as well. We're inspired to try something different or make something new. In honor of the arrival of spring this year, why not take a little time to nurture your kid's creativity?
Spring into the Garden
Something about spring makes you want to get your hands in the dirt! You don't have to undertake a big garden to satisfy your desire to grow something. You don't even have to have a green thumb! Try starting a small succulent garden with your child. Succulents are hardy plants with thick leaves for retaining moisture. Since Easter is this weekend, try placing them in these dyed eggshell planters (see Emily Takes Photos).
Spring into the Kitchen
The kitchen seems to be the natural gathering place in my family. Often one of the kids will come in and share a little something about his day while I prepare supper or play just outside the room to be close. Why not invite your kiddo into the kitchen for a little spring time fun? Kids will love these cute flower pretzel bites and parents will love how easy they are to put together. Thanks Two Sisters Crafting for this delicious spring sweet treat idea!
Spring into Poetry
Get your child's creative juices flowing with a little spring poetry practice. Acrostics are a great introduction to poetry. They also inspire creative thinking in children. Download this template from The Happy Teacher so your kids can produce their own tribute to spring. Let the creative writing begin!
Spring into Art
Pay homage to spring with this fun dandelion thumbprint masterpiece from Glued to my Crafts.  All you'll need to make this beauty is cardstock and a little paint. You won't believe how pretty the outcome is when this simple project is complete!
Spring into Reading
There's no better way to inspire creativity in children than by providing them with good books to read. Fortunately, there are plenty of terrific titles out there for your child to peruse! Check out these spring themed books from Hen Family if you need some suggestions!
We hope you and your family are enjoying the onset of spring. It really is a great time of the year! Leave us a message below and let us know what you do to inspire creativity in your crew. Happy spring from Red Apple Reading!