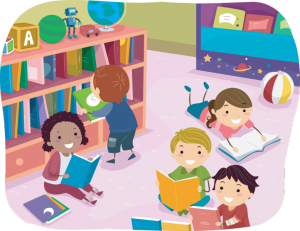 When was the last time you visited your public library? If you already have a hefty collection of books in your own personal library, you may not see a need to make a trip to the library in your community. However, your local library may have a plethora of resources for you and your child that you are unaware of. Check out these hidden gems that are available at your local library.
Story Time
Many of us have fond memories of circling up on the carpet and listening intently as the librarian read to us while she held the book open so we could see the pictures. How did she read upside down like that? This time honored tradition is still alive and well at most libraries across the country. Check your local library's calendar and see when your little one can participate.
Downloadable Products
Many local libraries have links on their web sites where you can check out free downloadable books. eBooks, audio books, and videos are a few of the options that are typically available through a digital library. Is your child obsessed with electronics? Why not offer him a book to read on your e-reader? Do you have a long trip coming up? How about downloading some audio books onto an MP3 player to help your youngster pass the time?
Events
A quick perusal of your library's calendar will reveal a variety of events offered to patrons. Homework help, craft time, creative writing classes, book clubs and movie showings are just a few examples of the extra activities that may be available to you and your little ones.
Books
Yep, this one is a no-brainer, but it bears reminding that libraries offer access to a wide variety of reading materials. How great is it that we can visit a library on any ordinary day and borrow a book for free?! Another great perk of book borrowing is you don't have to find a place to keep the book when you're finished and someone else gets the opportunity to enjoy it as well.
Quiet
Not many things in my life could be described as peaceful and quiet. But you know what? A visit to the library provides a little tranquility to my otherwise hectic day. An outing to the library may be the calming activity that you and your kid need.
Fun
Libraries are just plain fun! When we visit the children's section of our local library, my son can use the cool interactive Promethean table, visit the pet turtle, and play with all of the cool blocks and games that are available. What fun "extras" does the kid's portion of your library offer?
Is the public library an overlooked resource in your community? Today is a great day to explore the many benefits of your own local library! What do you think? We would love to hear about some of the resources/events you take advantage of at your public library.