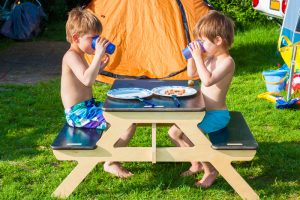 With school wrapping up for the year, school children across the country are itching to begin their summer vacation. Parents, however, realize what a mixed bag summer break can be. We love a more relaxed schedule but hate fighting the battle against mind numbing entertainment. How can parents plan a balanced summer for their little ones? Can we really have a fun break that also includes some education and structure? Red Apple Reading is helping parents plan the perfect summer for their little ones.
Ask yourself some questions
Think about what you would like your summer to look like. Are there any goals you have for your family? Do you want to spend more time outside? Read a certain book series? Teach the kids a new skill? Do more crafts? You're more likely to have a productive break if you begin with some clear objectives.
Embrace a little structure
Once you know what you would like to accomplish, you can begin making a plan.  Start by making a loose schedule. For instance, you may want to dedicate the first part of the day to chores, have outside time before it gets too hot, and spend part of the afternoon reading. Your schedule will depend on your goals for the family. If you are a working parent who has someone come in to keep your child during the day, communicate your schedule to the babysitter.
Remember to be flexible
It's always good to have a goal in mind for the day, but hold your schedule loosely. If your kiddo wakes up cranky you might need to give her some extra cuddle time on the couch. You may let your little one bring his tablet along on a day you have several errands to run. Remember, you rule the schedule, it doesn't rule you.
Include some academics
The transition back to school in the fall will be easier if your kids have engaged their brains throughout the break. One of the best things you can do for your children is to have them read regularly throughout the summer. Many kids lose gains they made in reading during the school year when they neglect summer reading. You can also review math skills, perform science experiments and visit a museum.
Don't forget the fun
Remember that summer break should be fun! Even if you don't have any big trips scheduled you can still incorporate some fun activities into your week. Need some inspiration? Check out our Summer and Outdoor Fun Pinterest board.
Make this summer break the best yet! If you don't have a subscription to Red Apple Reading's online reading program, consider getting one for your kid this summer. It's a great way for kids to have fun while brushing up on their reading skills. Try our free trial today!