With Thanksgiving just around the corner, many of us are already preparing for the big day. You may have your menu planned, the guest room ready, and schedule prepared, but do you have anything to occupy the children while the meal is being cooked? Why not pick up a few books from the library for the kiddos to enjoy while the adults are busy in the kitchen? Red Apple Reading has several good Thanksgiving themed selections for your kiddos to enjoy on Thursday.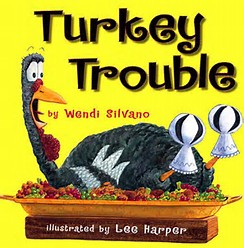 Turkey Trouble (Wendi Silvano)
Oh no! It's Thanksgiving and Turkey doesn't want to be the main course. Kids will have a good giggle over the hilarious disguises Turkey tries out in order to escape being the Thanksgiving meal. Preschool – 3rd grade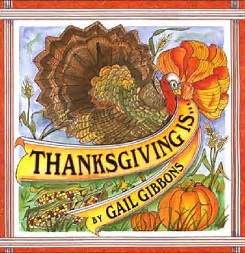 Thanksgiving Is… (Gail Gibbons)
A nice read about all that Thanksgiving means. It contains the perfect amount of history for young children along with some contemporary traditions. Preschool – 2nd grade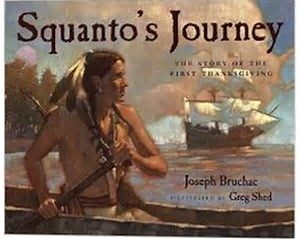 Squanto's Journey: The Story of the First Thanksgiving (Joseph Bruchac)
Told from the viewpoint of Squanto, this story of the first Thanksgiving presents a new perspective. Kids will enjoy this inspiring account about a very courageous Native American. 1st -3rd grade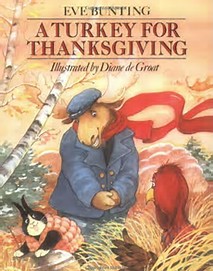 A Turkey for Thanksgiving! (Eve Bunting)
Mrs. Moose has always wanted a real turkey for Thanksgiving and Mr. Moose is determined that she will have one. Fortunately, the nervous turkey in question discovers that Mrs. Moose doesn't want a turkey on the table, but at the table! Preschool – 2nd grade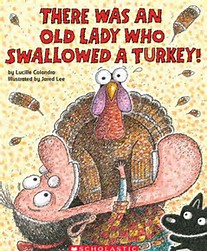 There Was an Old Lady Who Swallowed a Turkey (Lucille Colandro)
The hilarious old lady is back – and you won't believe the things she swallows this time. Young children will enjoy this crazy tale along with its wacky illustrations. Preschool – 1st grade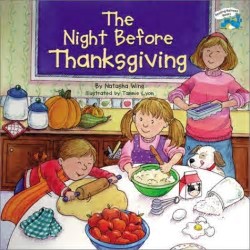 The Night Before Thanksgiving (Natasha Wing)
Find out what happens in a typical house during the Thanksgiving holiday in this fun story. Written in 'Twas the Night Before Christmas rhyming fashion, this book is a fun Thanksgiving treat! Preschool – 3rd grade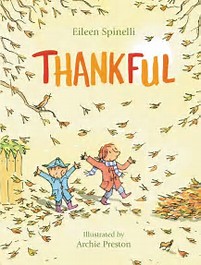 Thankful (Eileen Spinelli)
This rhyming picture book is a great read-aloud for parents who have young children. Follow two siblings as they rehearse the simple blessings for which people are thankful. A sweet and charming book for Thanksgiving! Preschool – 1st grade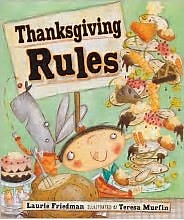 Thanksgiving Rules (Laurie Friedman)
Percy is a Thanksgiving pro and he has ten simple rules for making the most of Thanksgiving ("The early bird gets the turkey"). While they are good (and funny!) tips, Percy discovers that there's more to Thanksgiving than all the yummy food. Preschool – 2nd Grade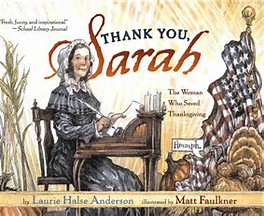 Thank You, Sarah: The Woman Who Saved Thanksgiving (Laurie Halse Anderson)
Your children probably know many facts about the origins of Thanksgiving, but they may not realize how it came to be a national holiday. In this biography about Sarah Josepha Hale, kids will discover how the tireless efforts of this persistent lady editor brought about the national recognition of a holiday that was beginning to wane. 1st -4th grade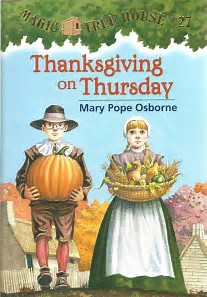 Thanksgiving on Thursday (Magic Tree House #27) (Mary Pope Osborne)
Join Jack and Annie as they travel back in time to 1621 for the first Thanksgiving celebration. What will happen when they are asked to help prepare the feast, but don't know how to do things the pilgrim way? 1st – 4th grade
While you are making Thanksgiving preparations this year, remember that a good book is always a welcome addition to any celebration. Be sure to pick up some of these titles for the family to enjoy. Happy Thanksgiving from all of us at Red Apple Reading!