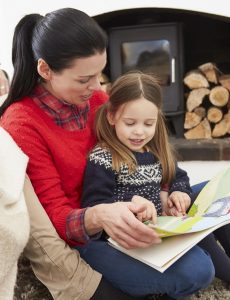 If you're looking for a way to add a bit of structure and fun this winter season, then Red Apple Reading has some ideas for you. Check out these fun winter themed literacy activities for the kiddos in your household!
Fire Side Stories – Winter is the perfect time to curl up in front of the fire! Why not schedule an evening of fireside reading for the whole family? Each member can bring their own book and read individually or take turns reading aloud from the same book. If you need a little motivation to encourage participation, serve hot cocoa and popcorn to all the attendees!
Snow Spelling – Take advantage of the latest snowfall in your community and have an outdoor spelling lesson. Kids love to play in the snow, so find a stick (or a spray bottle with water and food coloring) and let your little one practice his ABC's and sight words in the freshly fallen snow!
Winter Themed Books – There are a slew of good winter themed books to be read this season. Check out these favorites from Buggy and Buddy!
Writing Prompts – If your little one is a bit stir crazy from being cooped up inside, try a bit of creative writing. Gather your writing paper and pencils and have your children write a short paragraph or story. Take a look at these 25 winter writing prompts from Rachel K. Tutoring to get the kids started.
Winter Acrostic Poem – Creating acrostics is a great literary activity for younger children. Simply write the word winter vertically down a page and have your child use each letter to begin a word that relates to the winter season. Visit Printable Treats for a template.
Snow Writing Tray – Create a little spelling magic with a snow themed sensory writing tray. These are super easy to put together – you probably already have the necessary items in your home. Visit The Imagination Tree for assembly instructions.
Family Game Night –You may not realize it, but many board games promote literacy. So if the cold weather has your brood stuck indoors, organize a family game night. Games such as Bananagrams, Scrabble, and Boggle are classic games that sharpen spelling skills. Other less obvious board games foster literacy skills by having participants read game cards, write answers, and describe items.
Winter Word Search – You probably know Scholastic for its great children's books – they also have a really cool website with excellent resources. We found this wonderful winter word search on the Scholastic site and think it will make for a fun activity for the kiddos in your home.
If the winter doldrums have hit your home, perk up the season with one of these fun literacy activities! Any season is a good time to check out Red Apple Reading's online reading program. If you're not already a member of the Red Apple Reading family, why not sign up for a free trial? We're sure your kiddo will love the game-based learning and you will love the improvement you see in her literacy skills. Visit us today!