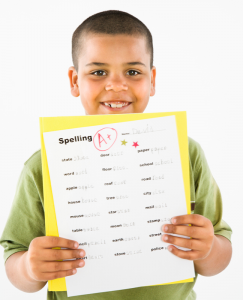 Most elementary school students come home each week with a list of words to master by Friday. Learning to spell is an important part of literacy development, but daily word drilling can seem like a tedious chore to both child and parent. Take heart! Spelling practice doesn't have to be a bore. With a few useful tools, you can help your kiddo actually enjoy spelling test prep! Check out these tips.
Scrabble Spelling – If you own a Scrabble board game, let your child use the tiles to create her spelling words. No Scrabble tiles? ABC refrigerator magnets and blocks work well too!
Free and Fun Spelling Printables – You're going to want to check out these freebies from Mrs. Winter's Bliss. Print out worksheets for Rainbow Spelling, Pyramid Spelling, I-pad spelling, Make a Word Search, and ABC order. Your kiddo is sure to love these spelling resources!
Creative Writing – Add some pizazz to spelling word practice by providing different writing utensils. Scented markers, colored pencils, crayons, and oversized pencils make for fun spelling preparation.
Playdough Writing – Fantastic Fun and Learning suggests using a playdough writing tray for word practice. Toothpicks, dowels, and twigs are all handy tools for spelling out words in dough.
Varied Voices – Put a spin on spelling out loud! Let your little one spell words using a whisper voice, a silly voice, a loud voice, a singing voice, etc. See how many different tones the two of you can discover.
Sidewalk Chalk – Take advantage of the beautiful spring weather and practice spelling words outdoors. Grab the sidewalk chalk and have your kiddo write the spelling words on your driveway, patio, or sidewalk.
Ghost Spelling – Lucky Little Learners created this fun spelling activity! Simply have your child write out her spelling words using a white crayon, then color over each word with a marker. Her words will appear magically on the page! This blog contains other enjoyable word work activities as well.
Create a Story – If your kid likes to tell a good story, have him create a tale using all of his spelling words. It can be as silly or serious as he likes – the only rule is he must spell out the word when using it in his story.
Puzzle Maker – Check out Discovery Education's Puzzle Maker. This online resource allows you to create your own crossword, word search, double puzzles and more. Enter spelling words into Puzzle Maker and it will generate a free puzzle for you to print and let your kiddo solve!
Type it – If you have a kid who loves to be on the computer, offer her the opportunity to type her words instead of writing them. This technique can also be employed in the car or in waiting rooms with a notepad app on your phone.
If you are interested in giving your child an extra boost in literacy development, check out Red Apple Reading today. Our online reading program teaches phonics, phonemic awareness, sight words, vocabulary, fluency and reading comprehension. Sign up now and save up to 40% off. Red Apple Reading is serious learning that's seriously fun!