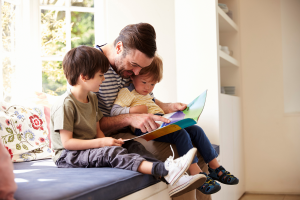 They may not like to admit it, but children thrive on routine. When structure is built into a child's day, it helps him know what to expect and thus experience a measure of security. Along with the typical daily routine of eating meals, dressing, and bathing, parents should also incorporate time for reading. Red Apple Reading suggests starting the following reading routines at home today.
Bedtime Reading
If you think bedtime stories are only for babies, think again. Nightly bedtime reading is a great routine that can be established at infancy and last through adulthood. Reading a book before turning in for the evening helps children to settle down and relax. Just like brushing teeth and putting on pajamas, bedtime reading establishes structure, providing a tangible signal that the day is coming to an end and it's almost time to go to sleep.
Reading Aloud
If you have independent readers you may think your reading aloud days are over. The reverse is actually true. Kids of all ages enjoy listening to a good story! Parents who no longer read to their children forfeit precious quality time. Some of my best conversations with my children have been a direct result of discussions about a book we were reading together. You will never regret making read-aloud time a priority.
Summer Reading
Because of their convenience and entertainment value, it can be easy to allow our children to have unlimited electronic device time during the summer break. Why not instead use the summer as an opportunity to devote more time to reading? Left to themselves, children will not often choose to pick up a book. However, if a parent requires devoted reading time, kids often discover that they really do enjoy reading. During breaks from school, devote an hour or two daily to reading.
Library Visits
The public library is a vastly underused community resource. Where else can you go and choose freely from hundreds of books? Weekly visits to the library are an important routine that parents can begin establishing in childhood. When you make library time a priority, you send a clear message to your child that reading is important.
Audio Books
It's not unusual for parents to spend several hours each week chauffeuring their children to and from activities. Make the most of time spent in the car by listening to a family friendly audio book. Audio books are easier than ever to access. Libraries typically have several audio books available for check out and many also offer the ability to download books. Of course, you can also access digital books through sites such as Audible.com when you purchase a subscription.
If you want your little one to fall in love with reading, try incorporating one or two reading routines into the day. A membership to Red Apple Reading is another great way to develop a love of reading in your child. Get started with a 7 day free trial today!