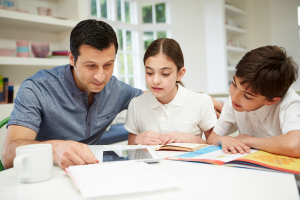 If you are a homeschooling family, you might still be enjoying the last of your much needed summer break. While you may not be ready to break out the curriculum just yet, it's a good time to plan for the upcoming year. If you're wondering where to find great homeschool resources for reading, check out the following suggestions from Red Apple Reading.
Scholastic
You're probably familiar with the Scholastic book flyers that kids love to peruse and order favorite books from; but did you know Scholastic has a website packed with useful resources for reading? Their Raise a Reader blog, book lists, activities, games and printables are all helpful tools for reading development.
Teachers Pay Teachers
Offering over 3 million paid and free resources, TPT has become the go-to site for all things curriculum. Printables, projects, games, videos, flashcards and a host of other great educational helps are just a click away. Find the reading resources your pre-12th graders need at this popular marketplace.
Pinterest
It's hard to imagine how we managed before this virtual pin board came into our lives! Homeschooling parents can find thousands of educational resources including resources for improving your reading curriculum. Explore ideas for developing reading comprehension, teaching phonics, improving fluency, and more. Simply type in whatever reading help you need and begin adding useful ideas to your board. While you're at it, check out Red Apple Reading's Pinterest boards for some reading inspiration!
Educents
This educational marketplace offers resources from thousands of businesses and individuals. An easy one stop shopping experience allows parents to peruse a plethora of resources using one easy website. You can shop for curriculum, worksheets, books, lesson plans and more when you visit this gem of a resource.
YouTube
When you think of YouTube you probably think of silly videos that leave you in stitches. Believe it or not, YouTube also offers viewers a variety of reading resources. Discover read-alouds, reading games, tutorials and more when you visit. For example, Learning Online Blog suggests the following YouTube channels for teaching phonics.
Study.com
An all-in-one homeschool curriculum provider that helps families with multiple subjects for multiple grade levels. Bite-sized video lessons along with worksheets and transcripts support multiple learning styles and help break down difficult subjects like Math and Science. Automatically graded quizzes and assessments help parents track progress easily.
Homeschool Bloggers
There are several great homeschool bloggers out there who regularly share their ideas. Get helpful tips from these veterans as you develop your homeschool reading program. Check out some of these top homeschooling bloggers at Must-Follow Homeschool Bloggers.
Library
Of course, one must not overlook the most beloved of all reading resources – the public library! On top of the thousands of free volumes one may borrow, this tried and true institution offers patrons access to computers, audio books, story time, and other valuable community programs. Don't allow your local library to be an untapped resource in your reading instruction.
Red Apple Reading
Consider supplementing your reading instruction with a subscription to Red Apple Reading. Our online reading program teaches children phonics, phonemic awareness, sight words, vocabulary, fluency and reading comprehension through fun, game-based learning. Check out our program today!
Now more than ever, there are an abundance of easily accessible homeschool reading resources. With these helpful aids to supplement your reading curriculum, you're sure to be ready for another successful school year!