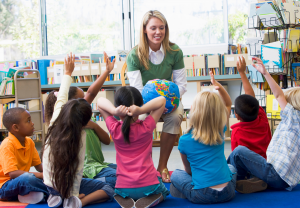 With the new school year under way, children are making the transition from summer break to being in the classroom. This change in routine can be challenging for everyone – children, teachers, and parents. As parents we must find that balance between handing over the reins to the teacher while still being an active source of support in the educational process. What can parents do to help their child's teacher? Red Apple Reading has some helpful suggestions for parents who want to support those who educate their children.
Offer
We often make the mistake of assuming that if the teacher needs help from parents, she will let them know. While this may be true of many teachers, it is not true of all. At the beginning of the school year, let your child's teacher know that you would love to help as much as possible and write down your availability.
Do the Mundane
After you've let the teacher know you want to be of assistance, ask him specifically what he would find helpful. I've sat for 45 minutes and sharpened pencils in the workroom because that's what the teacher needed done. It wasn't fun and it didn't put me in the spotlight, but it was what she needed. Be willing to do the menial tasks that free the teacher to teach your child and focus on the curriculum.
Help from Home
Many parents work outside of the home and are unable to volunteer time during school hours. If you find yourself in this situation, ask the teacher what you can do from home. Does she need you to cut out bulletin board displays? Stuff envelopes? Design a classroom website? Think outside of the box. There are several things moms and dads can do from home to provide support.
Donate
Unfortunately, many teachers have to spend money out of their own pockets in order to have the necessary classroom supplies. Every few months ask your child's teacher if there is anything you can purchase for the classroom. She may be running low on paper for the copy machine or glue sticks. Your donation will help the classroom as well as the teacher's wallet.
Listen & Be Cooperative
As parents we play the role of advocate for our kids. This is as it should be. However, sometimes in our zeal to speak for them, we forget to listen to another perspective. If a problem or challenge arises at school in regards to your child, don't assume you understand the issue before listening to the teacher. Keep an open mind as you attend school conferences. Although they are not perfect, teachers do have valuable experience and training. Instead of being defensive, seek to cooperate and ask what you can do to help resolve the situation. Work as a team for the benefit of your child.
Work with Your Child at Home
If mom and dad do not help reinforce the learning that is taking place in the classroom, kids do not receive the maximum educational benefit. Concepts taught in school should be practiced at home. Multiplication tables, sight words, measurements, reading, etc. are all best learned when training continues at home. Your cooperation in your child's education will not only help her but will also make her teacher's job easier.
Encourage
Teachers are vastly underpaid and underappreciated. They are quick to hear about their failings but rarely receive a thank you. Take time throughout the school year to send your kiddo's teacher a note of gratitude and encouragement. This small gesture will go a long way in encouraging them in their efforts.
When teachers and parents work together, kids win. Let's do all we can to support our teachers as they invest in our children this school year.