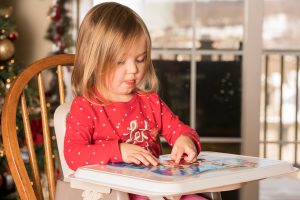 Children learn in many ways. Young children especially learn best when their body is engaged, a process known as kinesthetic learning. Rather than simply listening to a lesson being taught, kids are actively engaged. This developmentally appropriate approach is a great way to develop literacy in toddlers and preschoolers. Red Apple Reading shares 10 great kinesthetic literacy activities for parents to do with their little ones today!
Touch and Feel Letters
These letter cards constructed out of pipe cleaners are great tools for learning letter formation. Visit Teach Me Mommy for free letter templates and detailed instructions.
Sound Matching Sensory Bin
Young kids are sure to love this sensory bin that promotes phonemic awareness. Busy Toddler constructed this activity with a bag of rice, a plastic container, construction paper, and toys found around the home. Kids place the toys on the letter of the beginning sound of the object.
Rainbow Writing Salt Tray
Nurture Store suggests creating a salt tray for little learners. This easy to assemble activity only requires a rimmed cookie sheet, a container of salt, and a printed rainbow mat. Simply place the mat on the tray and cover with salt. When little hands draw a beautiful rainbow appears!
Felt Letter Boards
Have your kiddo practice her letters with her very own felt letter board. Young children can practice their ABC's, writing their name, and constructing small words. See how Mama Smiles uses the letter board with her little ones!
Driving Cars
If your little one is a car enthusiast, he is sure to love this activity! Using black construction paper cut out letter-shaped roads, then turn your kiddo loose to drive his cars all over them! See how Playing House constructed a letter I intersection for her child.
Alphabet Post-It Wall
Here's another great kinesthetic learning activity from Busy Toddler! It doesn't get much easier than this either! Parents hang butcher paper (or other long roll of paper) and write letters all over it. Kids then place the sticky notes with corresponding letters onto the wall letters.
Build a Letter
This is a great game for one or multiple children to participate in. Simply collect random objects from around the house (Legos, straws, bottle tops, string, etc.) and using ABC flashcards, choose a letter for your little ones to construct out of the odds and ends. Whoever has the most creative letter is the winner! See how it's done at Growing Book by Book.
Shaving Cream Sensory Spelling
Little ones love to get messy! Why not incorporate a little mess into your learning routine? Pool Noodles and Pixie Dust suggests having kids trace letters and words into shaving cream mixed with food coloring. Of course, parents need to be on hand to keep smaller children from eating the shaving cream! Alternatively, you could use pudding or whipped cream!
Letter Sounds Race
If you have a kid who's always in motion, she is sure to love this game. Inspiration Laboratories suggests sitting up a letter sounds race using magnetic letters and a magnetic board. Children stand beside the magnetic board and wait for the parent to call out a letter sound (or a letter for smaller children). Once the letter sound is announced, children race to the other side of the room, find the correct letter and run back to place it on the board.
Pop That Name
Preschoolers can practice writing their names using bubble wrap! Write your little one's name in permanent marker on the back of a piece of bubble wrap backwards (or carefully on the front without popping any bubbles). Your child can then practice forming the letters of his name by popping the bubbles of each letter. Visit Coffee Cups and Crayons for detailed instructions.